INTRODUCTION
Watercolor is one of the best mediums in painting. It is indeed a very good choice as it can truly sharpen your aesthetic sense. The most important thing, of course, is the material you select to start off with it. There are plenty of options in the market but what's really important is to start off with the right set/kit that you feel easy with (a beginners watercolor kit). In this article, we bring to you the best and the most popular watercolor painting kits for beginners that can really help you make up your mind. Moreover, if you are searching for a watercolor painting kit for professionals, then click here to find the top 5 watercolor kits for adults.
TOP 5 WATERCOLOR PAINTING KITS FOR BEGINNERS
The following beginners watercolor kit list shows the best watercolor painting kits for beginners:
This comprehensive watercolor painting kit is equally good for children, students as well as beginner painters. The unique selling point of this set is its lucrative wooden case. The charming design of the box also makes it a great option for giving away as a gift to your loved ones who love to paint. The package comes with 24 x watercolors, 24 x colored pencils, 24 x oil pastels and 60 x wax crayons. This also includes 2 x 2B sketching pencils, 1 x ruler (plastic), 1 x eraser and 1 x sharpener. There are 15 x brushes, 1 x plastic palette (10-well) and 1 each of watercolor pad, sketch book and a drawing sketch book.
Pros:
Coloring kit is contained in a dapper looking wooden box, which makes it easy to store and retrieve the stored material.
This 162-piece kit is the most comprehensive one that a starter could have.
The wooden box comes with a useful locking clasp that makes transportability very convenient.
The 10-well palette provides good enough space for mixing multiple colors and also to utilize space for primary colors separately.
Cons:
The watercolors tend to dry-up quickly.

Check the latest price on US Art Supply Painting Kit

This 80-piece painting set covers a diverse range of art supplies not just for multiple types of painting, but drawing as well. The kit offers users with 24 x assorted watercolors, 24 x oil pastel colors and 2 x water color paint brushes. A couple of drawing/ sketching pencils, 1 x sharpener, 1 x eraser and sanding blocks are also included. It comes packed in a nice wooden box that keeps the things intact inside. Moreover, it makes an excellent gift option to give to kids or anyone starting with the painting activity.
Pros:
The wooden box is compact and enhances portability to carry it for outdoor use.
Unlike many other watercolors, this one does not dry up quickly, even after months of usage.
The product is good for a good range of beginners, including kids and teenagers as well.
The product provides great value for money for the price it comes in.
Cons:
The set is not suitable for kids under 3 years due to some of its small pieces.

Check the latest price on Darice Portable Painting Kit

 This one from ARTIFY Art Supplies manufacturer is a limited watercolor kit that fulfils all the basics of the subject activity needs. You will find this package with 24 different watercolor cakes. This gives a good range of option to the users in colors' selection. The plastic palette that comes with the kit is adjustable. It could be setup at any suitable place both for the left or right handed people, with easy access. One of the most exciting part is its 3 watercolor painting brushes. 2 of them come with a round tip and the third one has a flat tip. Therefore, the users have good enough flexibility in the selection and usage of the brushes.
Pros:
This is a compact kit for beginner painters and is categorized as travel pocket fit.
The manufacturers assure of quality by offering 100 percent money back guarantee, if you find the product not as advertised.
The box comes with a finger ring at the bottom so you could firmly hold the entire box, while painting.
The palette made from plastic is quite easy to wash and maintain over a longer period of time.
Cons:
Some of the pieces just doesn't fit well into the case and that is frustrating for some users.

Check the latest price on ARTIFY Watercolor Set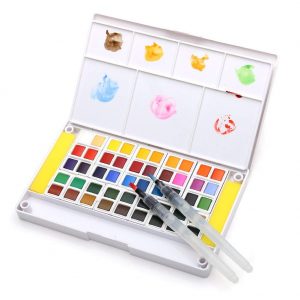 Dainayw watercolor kits manufacturer provides a very serious option for the beginner painters. This one specifically impresses all beginner painters with its excellent collection of 48 watercolors. All 48 assorted colors provide a vast range of bright, striking and vivid color selection, so that you are never short of options. Like any other standard watercolor kit, this one also comes with a useful mixing palette. The set is further facilitated with a couple of paint sponges as well. The main thing is its highly productive brushes for water-coloring. The quality is good and it ensures that your every stroke on the painting is no less than a charm.
Pros:
This set is ideal for portability due to its compact size and lightweight.
The unit comes with a highly productive carry ring in order to hold it firmly, while painting.
The manufacturer offers this product with money back guarantee, which makes it a risk-free investment.
The choice is diverse and quality of these watercolor cakes is as good as the tube watercolors.
Cons:
Very few colors are not that pigmented as you'd like.

Check the latest price on Dainayw Watercolor Paint Set

This is a top quality watercolor kit for beginners with various options. The manufacturer aptly produces the best water colors to facilitate the beginners in learning of the art of painting. The set includes 12 x watercolor paints, 1 x watercolor pad (12 pages), 1 x palette, 2 x brushes and an oil pastels set. Further accessories include 1 x micron pen, 1 x travel brush, 1 x salt cup and a couple of water cups as well. The price is truly justified when you evaluate the product for its quality and accessories.
Pros:
The manufacturer provides this kit with 5 different watercolor projects for the starters.
It comes with a handy travel case for easy carrying of the unit on the move.
A finger loop is provided right below the palette for holding it conveniently while painting.
A bonus watercolor project is provided with a blank print for creating your own watercolor painting.
Cons:
The paint brush is found to be shredding bristles and doesn't last long enough.

Check the latest price on WildLife Art Studio Kit

FINAL VERDICT
As you can see above that a good range of top of the line variety is available for the beginners in the watercolor painting sets. Luckily, the most lucrative sets with a wide array of coloring options come at a considerably low price. The coloring sets tend to last for a long time and don't have any fragile quality that is attributed to beginner's products by default. All the above discussed products are different from each other in terms of their quality, options and productivity. Therefore, all you need to do is to find the best match for beginners watercolor kit that will suit your needs.
If you liked this article, you may want to join our community through this Newsletter. I look to provide something extra to the people who are interested! See you on the other side!