INTRODUCTION
The painting equipment is as important as the skills of the artist (in order to get the desirable output). The selection of kit becomes even more critical when it comes to watercolors (especially for professionals). Watercolor painting kits for adults should comprise of several items including paint brushes, watercolors, palette and pencil etc. Some extended accessories include a drawing board with stand, watercolor paper and palette etc. 
On the contrary, a basic watercolor painting kit usually includes the watercolors, paintbrushes, sketch pencils and a painting pad etc. There are plenty of choices available for professional artists in the market. Each product carries a different weight-age as per the quality and relevancy with the desired painting task. Let us find some of the top-rated products available for adult painters.
TOP 5 WATERCOLOR PAINTING KITS FOR ADULTS
Following are the best watercolor painting kits for adults according to us: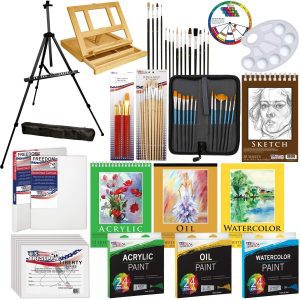 Pros:
The easel mad from aluminum is lightweight and have adjustable legs to fit as per your needs.
Compact storage possible as main unit folds to just 22 inches.
Useful drawer available with sections to hold brushes.
Watercolors do not require any solvents.
Cons:
The 12 ml tubes are limited and don't last long for professional needs.
Check the latest price on US Art Supply Painting Set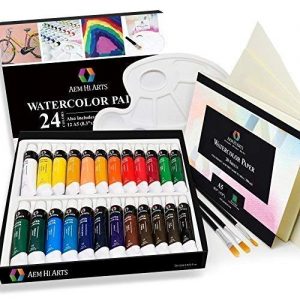 The product has got everything that any professional would like to have in their watercolor painting kit. If you are looking for a comprehensive range of 'beginners only watercolor painting sets', then click here. The package offers 24 x watercolors, 3 x paint brushes and 12 x watercolor sheets. The entire set is contained in a highly useful recycled box. It is portable, and can be used easily outdoors as well. You also get an e-book free of cost that explains the basics of watercolors and how to use the set effectively. The palette is made of plastic, which is machine washable and ensures easy maintenance and longevity over a good period of time.
Pros:
The set contains non-toxic and odorless components.
The container for paints and brushes is quite sturdy and excellent for portability.
It comes with a 6-well palette, which gives good enough space to accommodate your primary colors and also to mix colors.
The set comes with an exclusive money-back guarantee of 30 days and a replacement warranty of 1 year, in case the equipment is not found to be up to the mark.
Cons:
Some users have experienced a few paints to be very dry and observed leakage for a few as well.
Check the latest price on AEM Hi Arts Painting Kit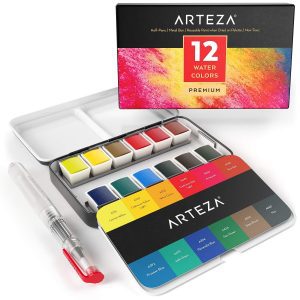 Check the latest price on ARTEZA Watercolor Kit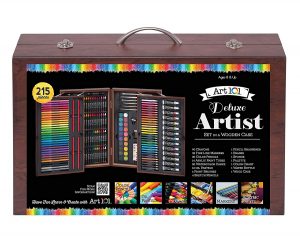 It is hard for both amateur and professional artists to miss this amazing deal. Especially at such a competitive price. This multi option set, packed in a classy wooden box, comprises of 20 x watercolors, 30 x colored pencils and 90 x crayons. Other items include 12 x oil pastel colors, 14 x acrylic paints, 6 x paint brushes and 32 x markers. The kit is further topped with 4 x pencils, 1 x palette, 1 x sponge, 1 x color chart and a water bottle. The painters can mix and match among an enormous range of different coloring options. That, while utilizing the immense variety of the available brushes.
Pros:
The wooden case provides extremely organized sections. This holds together all the available colors and other components of the set.
The colors do not get dry even after several months.
The set comes with a couple of pop-up drawers to conveniently hold your painting stuff.
The case is compact and comes with a carry-handle that makes portability quite easy.
Cons:
The paint brushes quality is not up to the mark.
Check the latest price on Art 101 USA Multicolor Set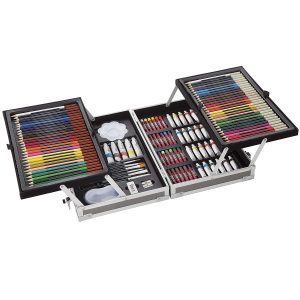 The adult artists, who love to have a great assortment of a wide array of colors would absolutely love this kit. This is an enormous 126-piece set. It comes with 12 x watercolor paints (6 ml each tube), 28 x watercolor pencils, 6 x bristle brushes and 3 x palettes (plastic). The unit contains 10 x acrylic paints, 12 x oil paints, 24 x oil pastels, 28 x colored pencils, sharpener and an eraser. The containing box is made of aluminum and nicely organizes all the components of the set, while making retrieval convenient as well.
Pros:
The aluminum box is sturdy and lightweight. It comes with the useful lift-out trays for super easy access of the required items.
The colors are non-toxic and does not produce any odor.
The unit is compact and easy to carry along for outdoor usage.
The product comes with a very informative tips and tricks booklet of 40 pages.
Cons:
The 6 ml watercolor tubes do not last long.
Check the latest price on Studio 71 Coloring Set
CONCLUSION – Watercolor Painting Kits For Adults
As we can see above, the adult painters do have a good range to select their most desirable watercolor painting kit from. It is just the matter of analyzing your needs and subsequently picking one that best matches with your requirements. Prices also vary among the products; where the quality, repute of the manufacturer and the items included are the key factors to look for.
Hope we made it easy for you to choose your kit.
Happy Painting! 🙂
Beatrix Ainsley (Bea to her friends) is an abstract artist who was heavily inspired in her twenties by the abstract expressionist movement of the 1940s. Since then Bea has acquired three degrees in Science, Education and most importantly Fine Art. Her art works showcase exploring emotion and introspection of self. To achieve this – the use of bold, sweeping, intricate layers of color, and spontaneity of form is enhanced by reflecting on decades of life experiences. Bea has amassed a vast knowledge of art in all its forms, and hopes to pass it on with her contributions here.