Colored pencils have been everyone's favorite art tool since we all were kids. We used to practice coloring simple drawings or sketching with colored pencils.
With the passage of time, the sketches and the usage of such pencils became more and more complex and with our constant practices of coloring with such pencils at home and school, using them at higher levels and complicated sketches wasn't that difficult for us.
Let's get into the details of using these easiest art tools and make our sketches or drawings look more attractive. Colored pencils can be used on different mediums, but here, let's talk about their use on watercolor paper.
Can You Use Colored Pencil On Watercolor Paper?
Yes! In fact, watercolor paper is one of the best surfaces you can choose to work on with the colored pencils.
Watercolor paper can be used when you are working with colored pencils. If you're going to use a solvent to mix with your colored pencils, you can use cold-pressed watercolor paper. Since the solvent is a liquid, you'll need a paper that can withstand wet media. To mix the majority of their colored pencil paintings, most artists use solvent. Since solvent removes graininess, provides bright colors, and helps you to put up more layers with your pencils, this is the case.
If you like to use solvents or wet media for your colored pencils (as is popular with watercolor pencils), a heavyweight watercolor paper is a good investment. When watercolor paper consumes moisture, it can warp and buckle if it is lightweight. Look for a document that is at least 300 gsm or 140 lb in weight.
It makes no difference what kind of watercolor paper you use. Rough watercolor paper, on the other hand, can be avoided because it makes it difficult to apply depth to your sketches.
Mixing Colored Pencils With Watercolor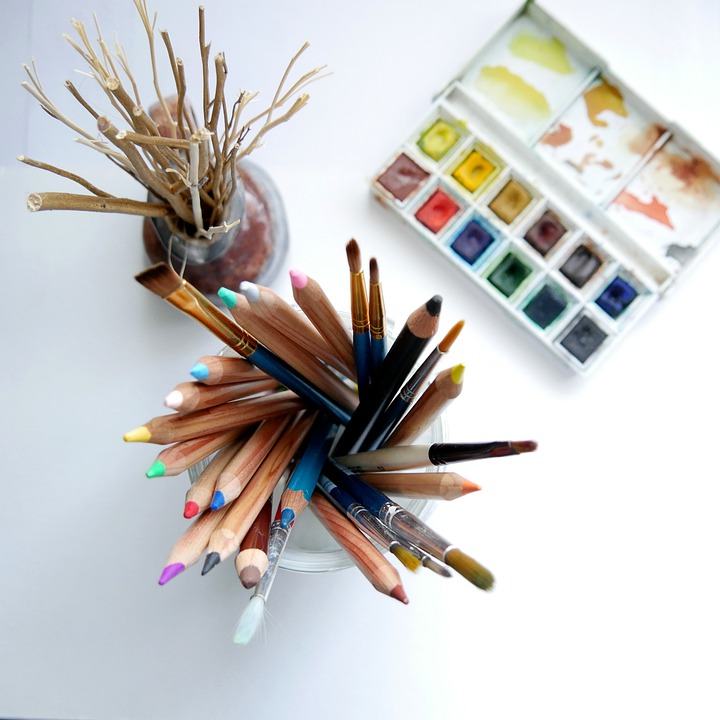 Color pencils and watercolor paint are a perfect match and complement each other beautifully .
Some art mediums aren't supposed to be combined together. Examine both oil and water-based paints. It's impossible to mix oil with water. Some materials on the other hand, were simply created for each other.
A popular drawing technique is to combine watercolors and colored pencils. When these mediums are mixed, they will yield a wealth of information. Dry watercolor can serve as a luminous basis for colored pencils, improving their color and texture.
Surface
They can also be easily added to a number of surfaces. Watercolor and colored pencil sketches can be produced on a variety of surfaces, including watercolor paper, plain paper, wood, masonite, and illustration board.
The texture or tooth of the paper will determine the texture created by the colored pencil application. The pencils will leave fragmented marks on rough watercolor sheets, while a finer surface, such as illustration sheet, will leave more stable marks. 
Layering
Layering is the secret to painting a rich picture using watercolors and colored pencils. Layering is essential to the growth of all mediums on their own. As a result, when they're mixed, color layering becomes even more significant.
Allowing the layers of watercolor applications to dry fully before applying more watercolor or colored pencils is also necessary. Color richness can be easily accomplished by painting with watercolor on a surface before using colored pencils or soft pastels.
Differences Between Colored Pencils And Watercolor Pencils
Though watercolor pencils and colored pencils are a great combination but they are not the same. Here are some of the differences between them:
1. Pricing And Color Selection
Colored pencils are readily available and come in a variety of price ranges to fit any budget. Many people like to start with student quality and work their way up to the professional artist quality. A wax core is found in most brands, particularly those at the lower end of the price spectrum.
Many colorists, however, favor oil core pencils because their tougher leads are easier to sharpen into a fine point for very fine work.
Aside from being more expensive than colored pencils, watercolor pencils have a smaller color spectrum. A package of 48, 72, or even 120 colored pencils is not difficult to come by. Watercolor pencils, on the other hand, are typically sold in packs of 12 or 24 colors.
2. Ability To Blend Colors
Working with colored pencils is also the most natural option for someone who enjoys adult coloring books but lacks creative training. You'll have an infinite variety of choices for a big enough package, like deep, rich colors for every color of the spectrum.
Colors may be mixed with a colorless blender pencil, Vaseline, or a small amount of baby oil if needed. Tri-tone pencils, on the other hand, give you a slight blended look with no effort because they have three colors blended together with the same pencil lead.
Watercolor pencils appear and function as regular colored pencils at first sight, but when water is applied to them, they produce soft painted effects. As a consequence, watercolor pencils have a limited range of colors.
Blending colors together is more complex, but adding water to lighten a color is pretty easy. However, when it comes to watering the field, you'll be able to easily cover a wide area. You would, however, be able to reach a wide area easily.
When working on an image with a big portion of sky, water, or grass, this may be useful.
3. Paper Quality
Colored pencils do not soak through the page, making them suitable for use in coloring books with both sides printed. When painting with watercolor pencils, though, the accuracy of your paper becomes much more critical. When water is applied to thin paper, it buckles.
Many people choose to use watercolor pencils on digital downloads that have been printed on high-quality cardstock or specialty watercolor paper for this purpose. You may use artist's tape, painter's tape, or masking tape to tape the paper to a sheet of cardboard, a clipboard, or another flat surface to keep it from buckling.
Final Verdict
You can use colored pencils on watercolor paper as well as even on watercolor paintings. It would help you increase the attraction of your painting but do not use rough watercolor paper because it would ruin the texture of your painting.
Beatrix Ainsley (Bea to her friends) is an abstract artist who was heavily inspired in her twenties by the abstract expressionist movement of the 1940s. Since then Bea has acquired three degrees in Science, Education and most importantly Fine Art. Her art works showcase exploring emotion and introspection of self. To achieve this – the use of bold, sweeping, intricate layers of color, and spontaneity of form is enhanced by reflecting on decades of life experiences. Bea has amassed a vast knowledge of art in all its forms, and hopes to pass it on with her contributions here.