Watercolor pan sets are more in demand and are easier to use than tubes. The pan sets don't require much preparation and are more appropriate. The best manufacturers ideally focus on the convenience of firmly holding the pan set while painting. This is mostly done by providing lightweight case and probably a gripping ring for a nice gripping, ensuring stress-free hours long of painting. They usually come with a side-on or an attached palette for easy mixing of the watercolors for painting. 
In this article, we bring to you the products we could find which could help you pick your favorite among the search for the best watercolor pan sets, and start painting.
(Just to save you some time) 
All of the below discussed products are top-notch, but the ARTIFY Art Supplies Watercolor Set has a significant edge over the other 4 due to a number of reasons. First of all, the quality of watercolors is great. They are not chalky and tend to blend smoothly. The watercolor pens are great with water flow control. The compact size and lightweight enhances portability. The loose parts sometimes could be an issue, but the pros of the product definitely out-numbers its con in weight (Which is not much an issue).
TOP 5 BEST WATERCOLOR PAN SETS
The following is a well-crafted list of the best available watercolor pan sets in the market: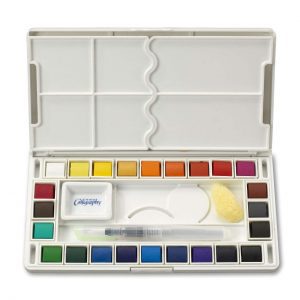 The pan set comprises of 24 distinct top quality watercolors. It comes with a FREE refillable water brush and sponge. The manufacturer has specifically designed this, while keeping your comfort in mind. You can take it on the go as it is compact and lightweight in order to be carried outdoors. It can be easily fit into your pocket.  Once you are in the mood to paint, then all you need is to have your preferred watercolor paper. This basic kit has got everything in order to achieve your painting goals. All of this also make it a wonderful gift for art lovers.
Pros:
The mixing palette has multiple sections, which you can utilize to put your secondary and mix colors separately.
The paints are non-toxic so any exposure to your skin shouldn't be of any concern, even to kids.
This is a least risk purchase as the manufacturer guarantees to resolve issues and concerns, if any.
The paints tend to mix right as per your expectations.
Cons:
The paint brush bristles tend to shred off after some use.
Sakura manufacturer of watercolor pan sets have the product available in different number of colors. The smallest set contains 12 watercolors and the largest one has 48 colors. However, we found the 24 watercolor pan set the best one as it fulfills most of the coloring option needs that a standard artist may have. If you prefer half pan watercolors that are known to blend easily, then this is the right choice for you. The package contains 24 watercolors, 1 sponge, 1 watercolor brush pen, 1 sponge and a palette built-in to the set.
Pros:
The plastic case is lightweight, which promotes portability and outdoor use.
The watercolor brush pen is refillable that supports storing and transporting water, as and when needed.
The compact size allows you to carry the kit in your pocket.
None of the watercolor is repeated in this set.
Cons:
A few leak issues have been reported about the watercolor brush pen, by some users.
This glorified kit has already impressed masses with its superior quality as compared to most of its competitive products. The set contains 24 assorted watercolors. The half pan watercolors are absolutely a charm and are found to be reasonably good to dry on the canvas. The kit is further enhanced with a total of 3 brushes; 2 come with round tip, while 1 has a flat tip. Moreover, a useful sectioned palette is also included with the kit.
Pros:
It has a compact and sleek design, where lightweight allows you to carry it in your pocket.
The watercolor brushes are durable and of high quality. They could be easily squeezed to get the precise amount of water flow that you would like.
It comes with an adjustable palette that could be utilized as per your painting preferences.
The palette is removable and is found to be quite easy to clean and maintain. Both left and right hander painters can equally benefit with the palette flexible placement.
Cons:
The container is known to have some loose pieces inside and struggles to keep them intact.
This is an exclusive watercolor pan set for kids. You could be a happy guest, if giving away this as a gift to your most loved kids. It is a 36 watercolor pan set that comes packed in a sturdy storage box and equally well organized. The paints are water soluble and this is exactly what a kids' watercolor paint set should have. The self-moisturizing brush is also included to make it a complete basic kit for kids.
Pros:
As this kit is specifically for kids, so manufacturer fully ensured that the paints are non-toxic, which they are. So any skin exposure to paints shouldn't be of any concern.
Kids would love this for its lightweight and compact size. Can be carried easily to school and outdoors.
This is a risk-free investment as manufacturer guarantees free replacement if you find any issue with the product or it is not as advertised.
The set comes with a highly durable brush and a color mixing tray as well.
Cons:
Few of the colors tend to repeat in this 36 pancake watercolor set.
You will be amazed with the quality and top features of this basic watercolor paint set. A compact, high quality box has 48 watercolors that meet and even exceed the expectations of many mature artists. The colors are found to be made from striking and vivid pigments. This quality makes it the right choice for all the sketchers, painters, cartoonists, hobbyists and buddying artists. The complete set also has a durable and a professional grade watercolor brush that is neatly packaged within the container.
Pros:
All the pigments in the set are non-toxic in nature and could be used with the right peace of mind.
The design is sleek, sturdy and lightweight that promotes portability of the product in every possible way.
A useful portioned palette (detachable) is also included in the deal.
The quality of the paints is so good that they do not result in any discoloration caused through natural sunlight and neither do they fade away quickly.
Cons:
Few of the colors in the set repeat, which makes the 36 watercolor paint options less viable.
As you can see above, the products discussed target artists of varying skill levels. You can make your job easy by considering the features, pros and cons for each. Budget for such shopping is usually a secondary concern as most of the products are of economical prices. Quality as always is the main criteria to make the selection. The best watercolor pan sets for you would be those which would fit the best according to your needs.
Click here to see another superb mix list having pan and tube watercolors. This richly researched list will definitely give you a lot more exciting products to choose your most desirable watercolor painting set.
If you want to have a look at different pain brush sizes, then click here.
If you liked this article, you may want to join our community through this Newsletter. I look to provide something extra to the people who are interested! See you on the other side!