The success or quality of your completed watercolor painting is highly dependent on the quality of your paint brush. In other words, having top quality watercolors doesn't make much of a difference if the paint brush is of substandard class. The professional painters, as well as the amateurs, need to do a little bit of research in order to get hold of a desirable watercolor paint brush. Price does matter, but only at some nth level. This is especially true when you are more concerned about your painting convenience, applicability to the painting job and the quality of the painting output. There are two main types of paint brushes. First is the standard stick brush. The other one is a smarter brush pen that has a water tank to facilitate your watercolor painting needs with precise water requirements.
At first, let us show you right away which one we think is the best out of all the following to save your time:
The immense variety and applicability to a diverse range of painting needs makes Adi's Art Pro Set of Watercolor Paint Brushes the best choice. It is also the quality of bristles and the amazing popup style brush holder that makes traveling/ portability super easy. Above, all it comes at a smashingly low price for such a brilliant product. Nonetheless, the Ohuhu Watercolor Brush Pen Set product discussed above is a close second with all its superior features in the category. It is a versatile paint brush pen set with resourceful tips and shapes. However, the persistent leakage issue took the cherry away from this impeccable brush pen set.
TOP 5 MOST AFFORDABLE WATERCOLOR BRUSHES
The watercolor paint brushes usually come in sets having varying sizes. This makes the most affordable and comprehensive solution as compared to buying a standalone paint brush. We have tried our best to share with you an affordable list of paint brushes, which are not only economical but of superior quality too. Have a look at the below top 5 products in this category:
The product comes with 8 distinct types of watercolor paint brushes. All have varying sizes and shapes to support one particular type of painting need. All brushes are handcrafted and are made using all-natural-material. The nylon bristles quality has practically proven to be outclass both for the professional and amateur painters. You may equally benefit with these brushes for watercolor, oil and acrylic painting needs.
Pros:
The brushes are handmade from non-toxic material and are found to be completely odorless.
The practically usage has shown that the bristles do not shred off even after considerable use.
The handles of the brushes are ideally designed to fit the majority of hand sizes with ease.
A popup stand and a carry case is included with the set to conveniently hold your brushes altogether.
Cons:
The smaller brushes, especially the 1-inch one is of low quality as compared to the larger brushes.
This is a set of 6 watercolor paint brush pens. Three of them come with a pointed tip and the other three have a flat tip, fulfilling comprehensive painting needs. The bristles are made from nylon and are effective in crafting top-class painting masterpieces. Usage is quite simple. You just need to squeeze gently and the paint and water flow control will be all taken care of by the brush pen.
Pros:
The nylon bristles promise not to stay intact and do not smear, spray or spread at all.
Cleaning is as easy as washing it with water after usage.
It is a multipurpose solution that can be used for watercolor and powdered pigmented as well.
Brush pens come in a plastic sleeve and are ideal for traveling.
Cons:
Water leakage is a reported issue with the brush pens.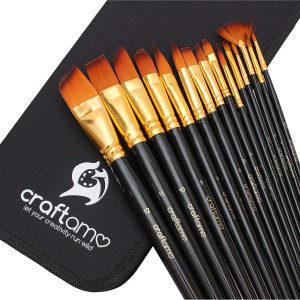 Craftamo is one of the leading manufacturers of top class paint brushes and this 15-piece set is no exception. The varying size and shape brushes are equally viable for watercolor, acrylic, oil and tempura paintings. Moreover, you will find them super applicable to all painting objects such as board papers, canvas and other crafts.
Pros:
The mixed synthetic hair of the all the brushes are on a different level than natural hair in some qualities.
The bristles are soft and blend smoothly with the paint.
Cons:
Some customers complained these of having frayed hairs.
Getting them wet posed a bit of a problem.
 The 7-piece set is a universal choice for professionals, students, children and all other types of painting enthusiasts. This excels with the tuner and dropper options that are hard to find in many other competitive products. All brushes have different tips and shapes and the set items completely complement each other. The bristles of each allows painters to create fine and sharp strokes with utmost convenience.
Pros:
This is a premium grade brush being offered at a highly affordable price.
Usage is simple where water or ink could be added just by unscrewing the barrel.
Brushes are ideally built to last and the tip of the brushes excellently hold its point after multiple uses.
Brushes are multipurpose and could be used for powdered pigments and crayons, apart from watercolor paints.
Cons:
The brush case quality could be better.
This is one of the largest watercolor paint brush set that a professional or a buddying artist would love to have. The 15-piece brush set comes in different sizes, shapes and with different tips so that you are never short of options while painting. There are 3 x angle, 2 x flat paint, 4 x filbert paint, 3 x fan, 1 x rigger and 4 round brushes. The quality of the brushes is excellent and allows smooth strokes on whatever watercolor paper or canvas medium you are using. The entire set comes in a dapper looking popup style brush holder.
Pros:
The popup brush case is foldable and you can exploit this feature to place them at your most preferable angle while panting.
The bristles of the entire set of brushes are proven shred-free. They blend excellently well with watercolors.
Equally good option for the professional painters and the beginners. It is one size fits all kind of a brush set.
The brushes can be used for watercolor, acrylic and oil paints.
Cons:
There is just one round tip brush in the set, which is disappointing for some professional painters having such needs.
Due to the relatively lower prices of the watercolor paint brushes as compared to watercolors or the entire set, affordability is actually a secondary concern. However, economics becomes important when you want to persist with one set for a long time and don't want to switch much often to a newer product. There, the above list in this regard is ideally designed that fulfils all such needs. You will find the top brush sets both in the standard and brush pens category. Just do the required due-diligence and choose one that meets all your needs.
If you liked this article, you may want to join our community through this Newsletter. I look to provide something extra to the people who are interested! See you on the other side!