There are many brands that produce good quality sewing machines. Among the world's best sewing machine brands, Janome has also made its place in one of the top sewing machine brands. Janome is not as common as Singer or Brother in America, so like many other people, you might also have a question in your mind about Janome like, 'whether you should buy a Janome sewing machine?' or is Janome a good sewing machine brand?'. The answers to such questions will be clear to you after reading this article.
Janome is known for the quality and durability of the sewing machines it produces. By researching on Janome for a considerable time, we were impressed for its best quality and inexpensive sewing machine ranges especially in mechanical sewing machines. The customers that are using the Janome sewing machines are loyal to this brand because of its durable and heavy-duty sewing machines.
Is Janome a good sewing machine brand?
Janome is a world-wide respected brand and produces feature-rich, sturdy and best mechanical sewing machines that satisfy every customer. Whether you are new to sewing or you are an expert, Janome sewing machine will provide you the best experience of your life in sewing different projects with its precise, professional and smart technology.
A little background on Janome:
Janome is a Japanese company that was started on 16 October 1921. At first, it was the pine sewing machine factory and later the Janome trademark was established in 1935 and the company was renamed to Janome Sewing Machine Co. Ltd. Its manufacturing plants are in Japan, Taiwan, and Thailand.
The word Janome means a snake's eye in Japanese. It was named after the innovative designs for new round bobbins by this company. Janome even produces machines under the names of other sewing machine brands.
Is Janome better than Brother?
Both Janome and Brother produce good quality sewing machines. Both are Japanese brands that are listed among the best sewing machine producing brands. Both the brands will give you the best quality sewing machines in an affordable range. Even after years of researching sewing machines, it is quite a difficult question to answer. We can differentiate individual machines from the two brands according to the features and the price range which fit our requirements better.
Heavy-Duty and Durable Sewing Machines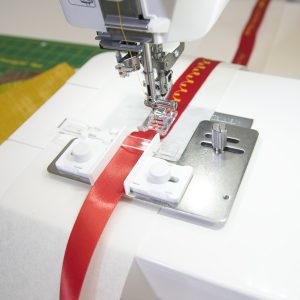 One thing that no other sewing machine brand can beat Janome sewing machines at is the durability and long-lasting capability of these sewing machines. Janome produces the best long-lasting and durable sewing machines and exports them to the U.S. and other countries. You cannot compare their durability with other sewing machines from different brands.
Janome production has always taken extra care to use metal parts where they possibly can. This makes their sewing machines heavy-duty and highly durable. This is also the reason that most of the Janome sewing machines are heavy in weight in comparison to other brands.
Computerized sewing machines
We all know that Brother produces the best-computerized sewing machines. Brother sells the highest number of computerized sewing machines to the U.S. There is a misconception about the Janome brand that they do not produce as good quality computerized sewing machines when compared to Brother.
But with the new technologies, the Janome sewing machine has grown a lot. There are a range of computerized sewing machines produced by Janome that are more or less as good in quality as a Brother computerized sewing machine.
Mechanical sewing machines
Janome produces best quality mechanical range of sewing machines. Even if you are a beginner, a Janome mechanical sewing machine can suit you the best. So if you find a Janome machine which fits the bill, then we would advise that you go for it. You do not have to worry about those difficult and complex functions of a sewing machine with this brand. Janome sewing machines are so easy to operate, plus you do not need to alter many settings  before starting a project. All in all, when you are ready to start a new project your machine is also already ready, which is great news for a beginner.
Price range
Janome sewing machines are a little expensive than the Brother sewing machines. If you want the same type of sewing machine from Janome with all the features that a Brother sewing machine has at around $150, then you would probably need to spend around like $250.
Even if they are expensive, they will provide you the longest quality time. The people that have experience sewing with this brand do not want sewing machines from any other brand due to the durability of heavy-duty Janome sewing machines.
Number of stitches
Brother gives you a wide range of stitches in its sewing machines whereas Janome sewing machines have fewer built-in stitches as compared to Brother sewing machines, but the difference is not that much. The amount of stitches a Janome sewing machine offers are more than enough to perform all the sewing techniques.
Why do you need a Janome sewing machine?
Well, we know that a Brother sewing machine may cost you a little less as compared to a similar Janome sewing machine, but with Janome sewing machines, the  sturdiness and the durability is really great. This is what makes it a bit costlier in the first place.
So, if you want a Janome sewing machine, then we would suggest that you go for it because it will not bail on you any time soon. Not saying that Brother sewing machines are not durable, but Janome is on a different level in this case.
What is the best Janome sewing machine?
Janome produces both mechanical and computerized sewing machines with high-quality features and durability. Their heavy-duty sewing machines offer you the best sewing experience and are also very easy to use.
Janome 2212 is a lightweight and small mechanical sewing machine, but is very efficient as well. Because of its heavy-duty motor, it can sew every kind of fabric material; from silk to leather. It can penetrate through different layers of fabric with perfect and accurate stitches.
This machine is one the bests for both beginners and experts. It is very easy to handle and thread. You can change the thread tension according to the demand of your project. Overall, the machine is very good and serves you very good.
The heavy motor allows you to sew at a very high speed with 1000 stitching capacity per minute. You can make heavier projects like curtains, quilts and many more in just a few minutes. Its smooth and sturdy operation makes it highly comfortable to use even for the beginners.
Features
Easy to use
12 built-in stitches which include 1 buttonhole.
4-step buttonhole
Adjustable stitch length up to 4 mm and stitch width up to 5 mm by turning the dial.
Manual needle threading system
Adjustable thread tension
Manual tension control
Easy to select the stitches by simply turning the dial.
Stitch chart in the front makes it easy to select the stitch.
Snap-on presser foot
5-piece feed dog.
Automatic bobbin winding
Reverse stitching to lock the stitch in the beginning and in the end.
Front-loading bobbin
Free arm
Blind foot
Buttonhole foot
Zipper foot
Drop feed dog for free-motion sewing and quilting.
High-speed motor can make 1000 stitches per minute.
Built-in light in the working area to see clearly while sewing especially dark materials.
Runs on 110V for the U.S.
User impressions
Easy to handle, smooth and durable. Its heavy-duty motor can stitch even the thick fabric materials and that too at a high speed. You can complete the set of curtains in about 10 minutes with the best stitch quality. It can also stitch the soft and silky materials perfectly.
The once basic con of this machine may be that the lever used to raise and lower the foot is only accessible with right-hand and is difficult to reach for left-handed people.
Check the latest price on Janome 2212
FINAL VERDICT
From the above points, the question that 'Is Janome a good sewing machine brand?' should be clear by now. By keeping in mind the above discussion, we can conclude that Janome provides the best quality sewing machines with really high durability. They have the best mechanical sewing machines. They use metal parts in their sewing machines that make them heavy-duty and long-lasting.
Even the mechanical sewing machines produced by Janome can sew heavy and light material fabrics smoothly.
Everything in this article is written after researching properly. We hope this article was helpful to you.
Happy sewing! 🙂
Beatrix Ainsley (Bea to her friends) is an abstract artist who was heavily inspired in her twenties by the abstract expressionist movement of the 1940s. Since then Bea has acquired three degrees in Science, Education and most importantly Fine Art. Her art works showcase exploring emotion and introspection of self. To achieve this – the use of bold, sweeping, intricate layers of color, and spontaneity of form is enhanced by reflecting on decades of life experiences. Bea has amassed a vast knowledge of art in all its forms, and hopes to pass it on with her contributions here.