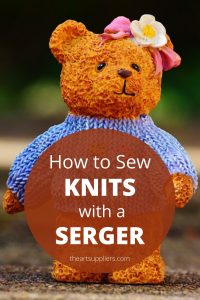 Knitted fabrics are elastic and not very easy to handle while sewing. Sewing knit fabric is a real challenge if you are a beginner and a bigger one if you are trying to sew knits on a regular domestic sewing machine.
Serger sewing machines, on the other hand, are the best to sew knits. Their double feed system makes it easy to handle knitted fabrics, and with the high speed, you can sew knits in no time. So the question arises then; how to sew knits with a serger?
How to Sew Knits with A Serger?
Well, it is not a complicated task to sew knits on a serger. People usually think that a serger is very difficult to use by just looking at the 4 threaded function of a serger sewing machine. Yes, it has different threads and it seems complicated but when you've got a little bit of practice, you can easily control a serger sewing machine without any difficulties.
Sewing knit fabrics can be done with both a simple sewing machine and a serger sewing machine. Now with the rise in technology, there are many modern sewing machines that can also do this task with much ease. But serger sewing machines are especially designed for this. If you want to sew a lot of knits on a regular basis, then having a serger is the best option.
Why Serger If I Can Sew Knits with A Regular Sewing Machine?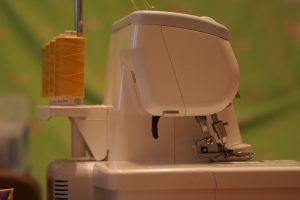 This is one of the most asked questions regarding knit fabrics. Yes, you can sew knits on a regular sewing machine, and it will give you some good results too. But if you are thinking about the most durable and flexible stitches for your knit fabrics, then you should consider a serger over your regular sewing machine.
I am not saying that a regular sewing machine is not good enough, it's just a lot easier and more practical to use a serger for this job. Although, you can sew knits with a regular sewing machine with the help of a zigzag stitch. It comes out really good if you do it right.
Elastic and Durable Stitching
Now, if we talk about why we should prefer a serger over a regular sewing machine for knit fabrics, then that is because a serger sewing machine gives you the most elastic and durable stitches.
You must be thinking why do I need elastic stitches? Why can't we use just normal stitches? Why a zigzag stitch is so important to sew knit fabrics? Well, as we all know that knitted fabrics are the most elastic kind of fabrics in the world of textile. Stitching them with a regular stitch can be a big problem as it will hinder the ability of the fabric to elongate.
This will cause the stitches to break as they will need more space to extend. That is why using an elastic stitch is very important while sewing a knitted fabric. It gives full freedom to the fabric to stretch and the seams also don't break due to it.
The first step for using any sewing machine is to know how to thread it. And for a serger, many people find it difficult by just looking at the number of threads in it. Yes, there are 4 threads in a serger that work together while sewing. It can be tricky to thread all the threads, but it is not too difficult.
 Talking about the sewing process, sewing with a serger sewing machine can be a little tricky, especially while sewing on the corners and curves. But if you follow the guide for your sewing machine, you can sew anything with a serger in no time, which we have discussed in detail below. 
Threading a Serger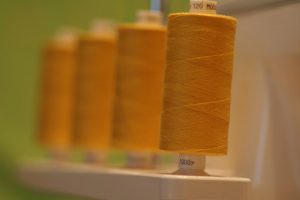 You can follow the guide that is always mentioned in the manual of the machine. Also, some serger sewing machines have drawing printed on the inner panel. Each thread is of a different color, so that it would be easy to follow the diagram to thread the serger sewing machine.
Even if you do not have access to both of the above options, you can easily find the instructions on Google as well as YouTube for the specific machine you have. There are many guiding videos and instructions to thread a serger on these two platforms. At first, you may find it difficult to thread your serger sewing machine, but after 2-3 times, you will be able to do it yourself without any help from anyone else.
Time Saving Trick to Thread a Serger Sewing Machine
There is another simple and time-saving trick that you can follow to thread your serger sewing machine. It is to cut the threads at the top by the spools. And then for every next thread, you can just tie it to the top end and pull the thread to move the knot all the way down. This will save you a lot of time and you will thread your machine with the next thread without any worries.
Tension in the Threads
The next thing after threading a machine is to have the correct tension in the thread. It is very important to have the right tension in the thread as it allows the serger or any other sewing machine to make stitches perfectly.
If the tension in all the threads is not proper, your serger sewing machine will not make fine and neat stitches. There are different dials to control the tension on a serger sewing machine for each thread. Each thread has its own tension that when altered, can change the effect of the tensions of all the other threads correspondingly.
You can adjust the tension by simply following the manual. Once you get your hand set on it, it will be very easy for you to do this without the manual afterwards.
How to Sew on A Serger Sewing Machine?
It is best to test run any type of sewing machine on a scrap before you start a new project. And if you are a beginner, this tip is more directed towards you. Try to sew with your serger sewing machine on scrap. You will have an idea of how it works, and at which speed you need to sew your knit garment. It will take a bit of practice for getting used to its speed.
Straight Seams
To produce straight seams, just insert your fabric under the foot and have a tail of chain thread hanging out of the back at the end. Hold this chain of threads when you are starting to sew. This way, it will not get caught on the fabric while you sew.
Now all you need is to let the machine presser foot and plate guide the knit fabric while you are sewing. This way, the serger sewing machine will sew the stitches and the blade will cut them at the end and create an accurate and fine seam.
You can also work with low speed. If you are a beginner, then starting at a low pace is a good idea. And after some practice, you will be able to sew your dresses or anything even at a higher speed.
For Curve Seams
Following are the points for making curve seams. If you follow them, you can sew on the curves of any fabric with a serger sewing machine easily.
Convex Curve Seams
Once you have practiced the straight edge seam, it is now time to learn the next step; to be able to sew at the curves. Keep in mind that if you are new to this, always practice on a leftover piece of fabric.
Take a scrap fabric and cut some curve edges on it.  Put the fabric under the presser foot and help the feed. Keep the fabric with one hand to guide it around the curve. All you need to do is to make sure to watch the blade not to cut off any excess fabric. Also do not go off the edge as you sew with your serger sewing machine. This will give you a nice neat serge curve.
Concave Curve Seams
This is a bit trickier than the former one as in this curve, you will have less space to sew with. Put and straighten out the edge along the blade that you are about to sew with. Now grab the edge of the fabric and pull it straight. This will allow the fabric to gather up on the side. This will also allow you to sew the fabric easily and will provide you a bit more space to work somehow. The main point here is that, just keep your fabric close to the blade as you sew it with a serger sewing machine.
For Corner Seams
For corners, the starting part is the same as above. After reaching the first corner, you need to take one or two stitches off the edge just to create enough chain to pivot the fabric. For this, go slowly so that you do not take too many stitches. After that, lift the foot up once you have created enough chain and then pivot the fabric in the line with the edge. Now put the presser foot down and do the same for all of the other edges.
3 Best Serger Sewing Machines
I personally like the following three serger sewing machines and would recommend them to anyone wanting to buy a serger. I have attached links from where you can get them:
1.     JUKI MO654DE (Amazon, Sewing Machines Plus)
2.     Brother Serger, 1034D (Amazon, Sewing Machines Plus)
3.     SINGER 14CG754 (Amazon)
I recommend Sewing Machines Plus for the sewing machines as I have often found best values at this site. Although there really isn't much difference elsewhere either. You can check it out for yourself.
A lot of people think that serger sewing machines are way too complex to use and are also not easily handled. But from the above discussion, it is clear that even though a serger can be a complex machine, when you start your journey with a serger, you will get along with it quite nicely.
A serger sewing machine is best for sewing knit garments and by reading this article, you might have a clear answer to your query on how to sew knits with a serger. 
We hope this article was helpful for you in some way. If you still have some difficulty in understanding anything, you can contact us and we'll be on it as soon as we can!
Happy Sewing! 🙂
If you liked this article, you may want to join our community through this Newsletter. I look to provide something extra to the people who are interested! See you on the other side!