INTRODUCTION
Brother XM3700 sewing machine is perfect for home-based sewers. If you like to sew as a hobby, or even like to sew your own dresses and clothes from time to time then this machine is more than enough for you. Moreover, this machine is very safe and easy to use, making it an exceptional gift for your kids or even for your friends. We talk about all the qualities of this machine in this Brother XM3700 review.
BROTHER XM3700 – MAIN FEATURES
Brother XM3700 Main Features
Stitches
37
Stitch Functions
74
LED light
Yes
Convertible sewing surface
Yes
Auto-size buttonholer
1-step
Automatic needle threader
Yes
Bobbin type
Drop-in
Lightweight
Yes
Check the latest price on Brother XM3700
Want to check our article on the best sewing machines for beginners?
Check out the best sewing machines for beginners who want to make clothes
BROTHER XM3700 REVIEW (DETAILED)
The best thing about Brother XM3700 is that it is designed keeping in mind the beginners and home-based customers. The features listed above which include automatic needle threader, built-in LED light and more make it very easy for beginners to use.
Plus, its weight and dimensions are very user-friendly. It is not so big and sturdy, and not so fragile either. It is just about the right size and weight for a new sewer or even an old one to sew their way comfortably.
Brother XM3700 offers a very good collection of stitches. When compared with other sewing machines of similar price, the number of stitches (37) and stitch functions (74) is very good, to say the least. Not to mention the one-step buttonholer.
This makes your sewing more versatile and helps you to be imaginative and creative. So, this is a big plus if you decide to get this adorable machine.
The maximum speed this machine can offer is 800 stitches per minute. This is more than enough for a beginner or a student. Almost all the brother sewing machines that I have come across offer very good sewing quality. And this machine is also one of them. So, sewing speed and quality are of no concern with this machine for a beginner in our opinion.
This machine offers drop-in bobbin. Most people prefer top loading bobbin to a drop-in bobbin but there is no harm in having a drop-in bobbin. In this machine, you won't have difficulty setting up your bobbin.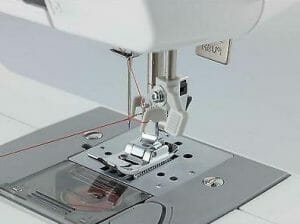 This machine comes with a variety of presser feet including;
Buttonhole foot
Zipper foot
Blind-stitch foot
Zigzag foot
Button sewing foot
In addition to these, a foot controller is also included. This gives you a great dimension for different styles of dress-making. Presser feet are very important in different kinds of sewing, that's why we recommend this machine very often. If this fits your budget then this should be on your list.
Brother XM3700 includes built-in quilting stitches. It also includes a free motion quilting foot which you would love to have. This shows that this machine can be used for quilting as well. This is a massive feature that this machine offers at this price. Yes, it would not be as good as the machines specifically made for quilting, but we think that it would be enough for the beginners to try it out.
The machine includes storage space for some of your stuff. It really comes in handy when you are really into your stitching and can't afford to move around that much.
This machine is really lightweight and is ideal if you are a student. You can easily take this machine to your classes and even move it around at home without troubling yourself. Moreover, despite being lightweight, the machine is quite well built.
This machine comes with a lot of accessories. The presser feet we described above are some of those accessories. A needle set, darning plate, bobbins. Screwdriver and power cord are some of the accessories included with this machine.
This machine is fairly simple to use. You just need to go through the instruction manual that comes with it (which is very well written) and you are all set.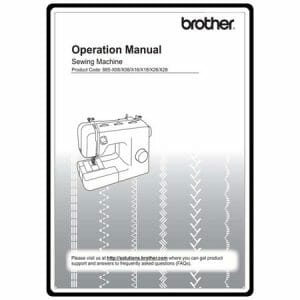 A big part of our website is about the user reviews we gather and share with our website family.
Most of the users were beginners or restarters who just restarted their sewing after a long pause. This machine really helps you to sharpen your skills without any worries.
People have rated it very highly for home hobbyists and students. Its easy to use feature is the most popular among people and it is safe to say people enjoy using this machine very much.
FINAL VERDICT
Looking at all the features described above, we are quite positive that this machine is offering well and beyond its price tag. So, if you really are interested in buying this machine then you should go for it.
If you find any trouble with the machine or want to share your experience then kindly comment so we can share the valuable things with more people.
Hope you liked our Brother XM3700 sewing machine review along with an instruction video below . Best of luck for your purchase and happy sewing!
Check the latest price on Brother XM3700 https://www.youtube.com/watch?v=UC4ci-t5M60
Beatrix Ainsley (Bea to her friends) is an abstract artist who was heavily inspired in her twenties by the abstract expressionist movement of the 1940s. Since then Bea has acquired three degrees in Science, Education and most importantly Fine Art. Her art works showcase exploring emotion and introspection of self. To achieve this – the use of bold, sweeping, intricate layers of color, and spontaneity of form is enhanced by reflecting on decades of life experiences. Bea has amassed a vast knowledge of art in all its forms, and hopes to pass it on with her contributions here.