It is undeniably an art to create and integrate antique furniture. However, ordinary people can still use it because it is easy. You should also put your own craft designs into action.
I would like to be able to provide you with specific examples today. It's all about repurposing antique sewing machines into DIY retro furniture.
What Is A Sewing Machine Table And What Is It Used For?
A sewing table, also known as a work table, is a table or desk that is used to knit, sew or quilt. It usually has a lot of storage space and a complete collection of sewing equipment.
There will be a chair and a trash can nearby.
A drop leaf is a typical attachment that provides additional space.
A cotton bag for holding sewing supplies, drawers, or shelves are examples of other accessories.
Can An Old Sewing Machine Table Be Reused?
We all have  heard the famous saying that "Old is Gold". The same quote can be applied if you have an old sewing machine table as it can be transformed into a number of things that you couldn't even imagine.
If you have an old sewing machine table, do not waste it as it can be converted into an antique decoration piece and can enhance the beauty of your interior decor.
Redesigning Old Sewing Machine Table
There are many ideas you can use to convert your old sewing machine tables. Some are as follows:
Side Table
The old sewing machine can be used to make a beautiful side table. You can just repair it if it is damaged or if not, can use it as it is. The side table would give the interior a great look.
Dressing Table
Old sewing machines can be converted into beautiful dressing tables. You can convert a simple wall into a beautiful dressing table. Just fix a mirror on the wall and place your old sewing machine table beneath it.
Place your essentials on the sewing machine table and your elegant dressing table is ready.
Desk
A sewing machine table can easily be converted into a beautiful desk. The old sewing machine tables are made of strong wood so they can be converted into strong wooden desks and can be used according to one's requirements.
Bookshelf
The sewing machine table is the best choice to make a simple but elegant bookshelf. You can make a bookshelf without spending any money.
You just need to polish the wooden sewing machine table (which is an optional step) if the sewing machine table is a bit dull or dusty and you want a clean finish, or else you can use it as it is.
Place your favorite books on the table and an elegant bookshelf with zero expense is ready for you.
Wine Table
If you are a wine lover and you want to have a small bar table in your house, you do not need to waste a lot of money in buying expensive wine tables.
Instead you can use the old sewing machine table as your wine table. You can customize the table according to your preferences and choices.
Planter
The sewing machine can also be converted into planters. You can simply place your planting pots on the table and place it in your garden or yard and it will make your yard look more attractive as the designs of the old sewing machines are indeed very elegant to be used as a decoration piece.
There are many other ideas you can use to utilize your old sewing machine table such as dining tables, entry hall table, centre table, farmhouse dining table, coffee bar, sofa table, chair, bathroom sink, kitchen table/ butcher block etc.
Wondering why I recommend a sewing table instead of a table that is especially made for a particular purpose?
The reason is that the wooden tables available for us now are not made of as strong and reliable wood as they were made in the past years.
The old tales can be used for whatever your purpose is and can increase the liability of the table as well as increase the beauty of your interior by having an elegant antique look which is indeed a perfect decor option for your home.
Being strong and reliable, it does not need a lot of maintenance as compared to other tables that are available to  the masses nowadays. Today, it is difficult to find such antique things.
If you have one, do not waste it and utilize it into different unique pieces and enhance the beauty of your interior with these masterpieces
Can An Old Sewing Table Be Converted Into A New Sewing Table?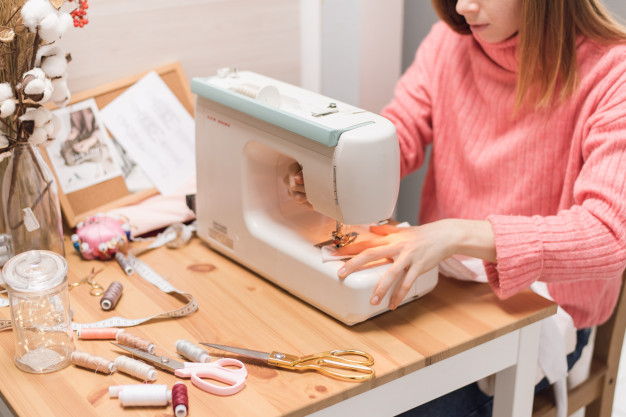 The sewing machine tables available in the market today are not made of pure wooden and are way too expensive. If you are one of the people who want to have a sewing table but do not have a budget to buy a new one, you do not need to worry.
Just visit the auction and buy an old sewing machine table which is cheaper than the new one or use the one you have in your home (if any). Adjust it according to the machine you are using and your sewing table is ready for under twenty bucks.
FINAL VERDICT
As you know many ideas to reuse your old sewing machine tables, I recommend you not to throw them into the trash because they are made of pure wood and are well designed which can be converted into the useful things we usually have in our houses.
Instead of wasting such masterpieces, you should reuse them and get the desired tables of your choices in almost zero expense as compared to the prices of the tables available now.
Use your creative ideas and create some creative decoration pieces for yourself. Good Luck!
Beatrix Ainsley (Bea to her friends) is an abstract artist who was heavily inspired in her twenties by the abstract expressionist movement of the 1940s. Since then Bea has acquired three degrees in Science, Education and most importantly Fine Art. Her art works showcase exploring emotion and introspection of self. To achieve this – the use of bold, sweeping, intricate layers of color, and spontaneity of form is enhanced by reflecting on decades of life experiences. Bea has amassed a vast knowledge of art in all its forms, and hopes to pass it on with her contributions here.