The lifespan of any electronic accessory whether it is a sewing machine or an electric beater largely depends on how carefully you use it. In the case of a sewing machine, you should be very careful especially when you buy a new one.
How Long Do Computerized Sewing Machines Last?
There's no doubting that a sewing machine is a significant investment, so knowing that it will last you five, ten, twenty, or even thirty years is a compelling reason to purchase one – especially one with such a guarantee.
You may expect your sewing machine to work more than 5 years with correct storage and maintenance, as well as attentive use. If you're lucky, certain computerized models can survive up to 25 years.
What to Look for When Purchasing A Long-Lasting Sewing Machine
The foremost important thing while buying a sewing machine is the quality of its material. This factor is important because the life span of the machine correlates with the quality and how you are handling it.
Following factors should be researched before buying a sewing machine:
Computerization
Computers integrated into sewing machines can be extremely useful. However, they are frequently the first component of a machine to fail, which is why many heavy-duty machines lack a computerized component.
Material
Sewing machines are made of plastic or metal, depending on the model. Because plastic is a less robust material than metal, plastic sewing machines break more easily.
Metal sewing machines, on the other hand, are far more expensive and heavy. Look for a sewing machine with a metal frame if you're looking for a compromise.
Brand
If you choose an off-brand, generally less expensive machine from a firm or brand you've never heard of, expect the machine's lifespan to be half or more than that of a big sewing machine brand.
Not only does the brand of a sewing machine affect the machine's lifespan, but it also influences services, complaints, guidelines, and quick solutions, as well as replacement parts, all of which contribute to the machine's longevity.
Warranty
Some sewing machines include a free warranty. This means that if the machine fails due to a manufacturing flaw, it is covered by the manufacturer's warranty.
The machine will be replaced for free if it has been moderately used and you have documentation of purchase that shows the machine was acquired within the warranty period (i.e. 5 years).
Insurance
Don't forget that you can check the insurance of your sewing machine as part of your house insurance or separately as an appliance, so if something goes wrong, you'll be covered. You can get it replaced if it's broken, stolen, or accidentally damaged.
How to Extend the Lifespan of Your Sewing Machine?
There are several things you can do after purchasing your sewing machine to guarantee that it survives a long and healthy life.
These are some of them:
When not in use, cover the machine. A sewing machine cover protects the machine from dust, fur, and minor spills, to name a few things.
Clean your machine regularly – each machine is slightly different, and the best technique to clean it is detailed in the product manual.
Oil your machine — The instruction booklet for your sewing machine should provide information on when and how to oil your machine. Oiling your machine's mechanical parts regularly and with care will avoid long-term damage and maintain the parts running smoothly.
Use the right parts — To avoid breakages and damage, be sure you're using the right bobbins, needles, and other accessories.
Replace parts regularly – sewing machine needles, for example, should be replaced after four hours of sewing.
Get your machine maintained regularly — It's critical to find a local sewing store that specializes in the brand of sewing machine you own. To ensure that my machine functions smoothly, I have it thoroughly serviced once a year.
However, ensure that the store where you have the equipment repaired is qualified; otherwise, whatever they do could violate your machine's guarantee.
How Can You Compare Computerized Sewing Machines With Mechanical Sewing Machines?
We are living in the era of technology. Sewing machines with computerized functions are much easier to use than mechanical sewing machines, however, these machines also have some drawbacks.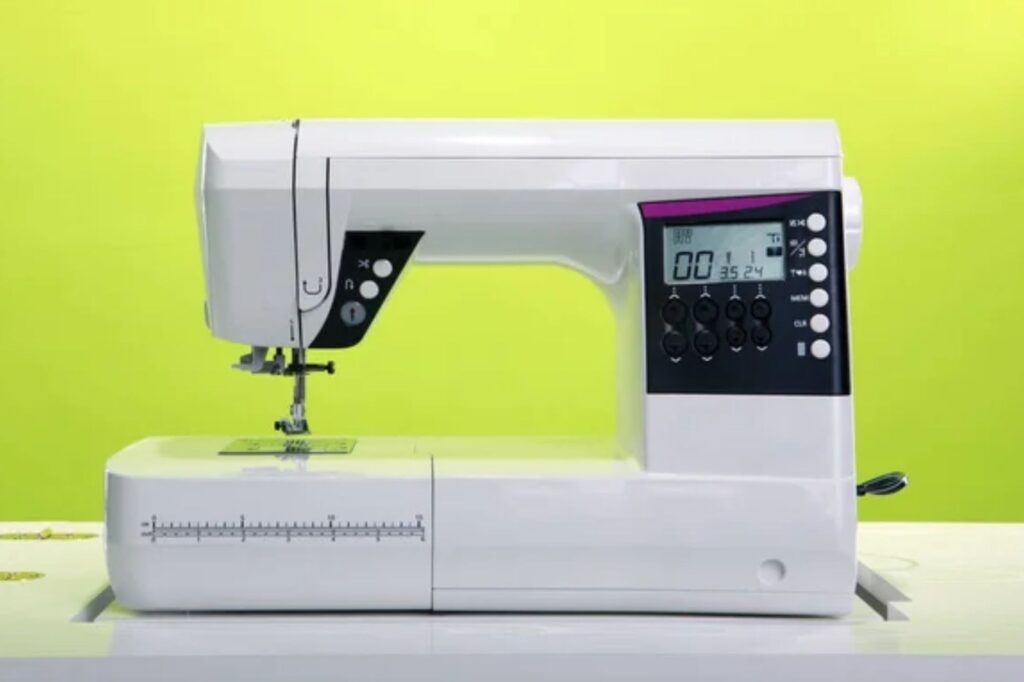 Following are points highlighting the comparison between computerized and mechanical sewing machines:
Many automatic features of computerized sewing machines such as automated needle threaders, needles up and down, automatic thread cutter, auto tension, and so on. These features are useful and time-saving.
Computerized machines contain more complicated electronic motherboards and electric parts than mechanical machines. Many mechanical machine owners claim that it makes maintenance and problems easier.
A computerized machine has superior speed control, and many of them have the option of not using the foot pedal at all.
You can acquire a fairly heavy-duty machine depending on the type of mechanical machine you buy. Various old (and modern) mechanical sewing machines can sew through almost anything.
Is it worthwhile to invest in computerized sewing machines?
You can choose to have no foot control at all with a computerized machine, and it has much better speed control. Whether you're stitching delicate cloth or thick layers, a computerized machine can handle the variety and provide precise tension control.
Is it simple to operate computerized sewing machines?
Computerized sewing machines are simple to operate and have a lot of features. Computerized machines, unlike manual machines, include small computers that control multiple motors that move the needle, allowing for more sophisticated stitching patterns.
Final Verdict
In a nutshell, computerized sewing machines, in many aspects are far better than mechanical sewing machines. They can last for up to 5 to 25 years if kept with nice maintenance and used attentively.
 Depending on your use and the durability of materials, the computerized machine can work for a long.
Beatrix Ainsley (Bea to her friends) is an abstract artist who was heavily inspired in her twenties by the abstract expressionist movement of the 1940s. Since then Bea has acquired three degrees in Science, Education and most importantly Fine Art. Her art works showcase exploring emotion and introspection of self. To achieve this – the use of bold, sweeping, intricate layers of color, and spontaneity of form is enhanced by reflecting on decades of life experiences. Bea has amassed a vast knowledge of art in all its forms, and hopes to pass it on with her contributions here.