We're an affiliate
We hope you love the products we recommend! Just so you know, we may collect a share of sales or other compensation from the links on this page. Thank you if you use our links, we really appreciate it!
We know that a perfect cosplay can only be done if the costume is made to absolute perfection. Because of the variety of fabrics required to make different costumes, (Cotton, Silk, PVC, and more) it may be difficult to find a sewing machine which you may want to call the best sewing machine for cosplay.
We need a machine that is an allrounder and can stitch through different kinds of fabrics without having to take extra care. So, keeping all this in mind, we have gathered some great machines that will help you sew the best cosplay costumes for yourself and even for your friends.
Note: We have divided the sewing machines according to different budgets. So, feel free to take a look at the one that fits nicely in your budget!
Check out our 4 picks in the search for the best sewing machine for cosplay:
Recommended
Product
SINGER | Heavy Duty 4423 Sewing Machine with 23...
Brother Sewing and Quilting Machine, CS6000i, 60...
SINGER Heavy Duty 4432 32 Built-in Stitches,...
SINGER Cosplay CP6350M Sewing Machine, Red and...
Automatic Needle Threader
Product
SINGER | Heavy Duty 4423 Sewing Machine with 23...
Automatic Needle Threader
Recommended
Product
Brother Sewing and Quilting Machine, CS6000i, 60...
Automatic Needle Threader
Product
SINGER Heavy Duty 4432 32 Built-in Stitches,...
Automatic Needle Threader
Product
SINGER Cosplay CP6350M Sewing Machine, Red and...
Automatic Needle Threader
Last update on 2020-04-10 / Affiliate links / Images from Amazon Product Advertising API
What To Look For In A Sewing Machine For Cosplay
Before getting in the sewing machines, we just wanted to make sure that you know what you should expect from a sewing machine with which you want to sew your costumes. So, following are some points that you should take into consideration while choosing the best sewing machine for cosplay.
Variety Of Fabric Materials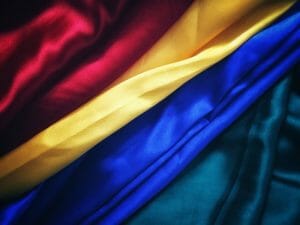 As discussed in the start of this article, the variety a machine offers is very important. We know that the materials for a cosplay range from the most elegant materials like real or faux silk, velvet, taffeta, brocade or heavy-weight satin to the most sturdy of materials like real leather, wool, linen etc.
So, a machine that offers a wide range of working capacity with a vast variety of materials would be a better choice than a machine which purely focuses on a specific type of the fabric.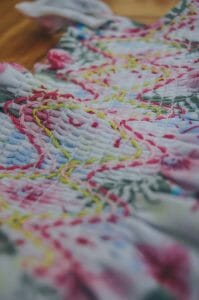 We have already talked about the type of fabrics, now we can move on to the stitches that we should look forward to.
Well, this is just the basic knowledge that for a cosplay sewer, the zigzag and the stretch stitches are two of the most important types of stitches. Luckily, most machines usually offer a complete basic set of stitches, especially the ones that we have mentioned, so we don't need to sweat a lot in this case.
Although, a machine offering more stitches would be a more valuable one if you are experienced and know what you can do with those options. Otherwise, if you are just a beginner or even if you are comfortable in a specific set of stitches, then there is no need to go for a different machine just because it offers more stitches when you are not going to use them.
The built of the machine is very important. The machine you are looking for is certainly not a softy if you are looking to work with different materials like wool, etc.
The sturdy machines as we know work better and of course are more durable, but why this is important for cosplay sewing is that we have to work with a lot of tough materials. We need our machine to be sturdy so we can rely on it and sew whatever we want. If we go for a machine that can't support your wishes, then in our opinion it would be a waste of money to go for that machine.
So please, choose your machine wisely in this case.
The Working Area And Storage Space
We can agree that we all care about our cosplay too much! We can't see any imperfections in our costume because it'll ruin our effort and it'll also ruin the image of our favorite character. I don't think any of us would want that.
So, it might not seem as important as it really is, but the working area, when you are making a cosplay costume, should be considerable and comfortable. The tiny work area can't fit most of the sturdy and stiff materials and it is often a pain in the head. We mean, A LOT of pain. So, it is a simple suggestion that you should consider a machine with a good working area.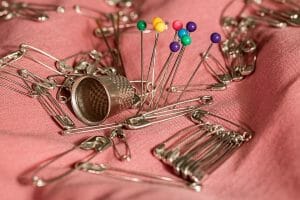 A free arm or an extra surface would do no harm to our project and we would feel comfortable in being creative and innovative. This is also a good factor to choose you machine based on.
In addition to the working area, a machine with some storage would be a great benefit. This is more of a general advice, but in cosplay it can have a greater impact because we have to deal with a lot of tiny little details which need very small materials. So, if we have some storage space with our machine, it would be easier for us to organize everything without losing anything including the hair on our heads.
Best Sewing Machine For Cosplay (Detail)
Singer Heavy Duty 4423 Sewing Machine is a sewing machine that we have reviewed a lot in our different articles. This machine is truly a gem. With 23 built-in stitches and a 60% more powerful motor as compared to the standard sewing machines, it guarantees you a very powerful performance. Its heavy built fully supports its motor. It is made using metal so that the machine stays durable for a long period of time.
This machine also comes with a long warranty. Which makes it an even better and safer option to choose. This machine is high in our recommended list. You can enjoy sewing a large variety of fabrics using this machine. Some of the main features of this machine are as under:
Singer heavy Duty 4423 Features


Built-in Stitches


23


Automatic Needle Threader


Yes


Maximum Speed


1100 stitches per minute


Motor


60% Stronger than standard


Interior Frame


Metal (Heavy Duty)


Sewing Accessories


Yes


Bobbin


Top (Drop-in)


Presser Foot Pressure Control


Yes

User Impressions:
Many beginners with a limited budget have tried this machine as their first. It is safe to say that it has turned out to be fine for them. This machine can sew through canvas, leather and many different tough fabrics, so you can be sure that it will turn out to be fine.
If you don't have a big budget and want to start sewing, then this machine will satisfy your needs very well.
Brother CS6000i Sewing Machine is a really good option for a professional sewer as well as a newbie. It is very user-friendly offering simple sewing as well as quilting. So, why exactly is this machine worth more than the previous one?
That's because it offers 60 built-in stitches, 7 styles of 1-step auto-size buttonholes, variable sewing speed, an LCD display, built-in free arm and more. Its main features are described below:
Brother CS6000i Features


Built-in Stitches


60


1-Step Auto-Size Buttonholes


7 styles


Automatic Needle Threader


Yes


Maximum Speed


850 stitches per minute
(Adjustable)


Wide Table For Large Projects


Yes


Built-in Free Arm


Yes


LCD Display


Yes


Bobbin


Top

User Impressions:
All these features show that this machine is a steal at its price and it is very hard to find another sewing machine which offers this much in such a price.
Many of the new users have become fond of this machine quite quickly. On the other hand, a handful of people have not been able to adjust to this machine. But that is mainly because of the fact that those customers haven't gone through the user manual.
So, it is recommended that you use the user manual first and then work on the machine. Otherwise, you'll not be able to work as effectively on the machine as you should. After all the facts, it is safe to say that this machine is the perfect fit for beginners.
The final machine we have reviewed is the Singer Heavy Duty 4432 Sewing Machine. From the same manufacturer as Singer Heavy Duty 4423, this machine features a bit more than the former. Its basic features like speed, motor, and metal built are the same as that of the previous model we have discussed. But it has a simple upgrade to a main feature, that is; it has upgraded to 32 built-in stitches from 23 stitches which were in the previous one.
All the other features like free-arm sewing, stitching and threading systems are all similar to those that the previous one was offering. So, if you are a beginner and probably don't want that many stitches, then you can save some money and go for the Singer 4423. If you need more than just 23 stitches and your wallet allows it, then go for this one! It really comes down to your own choice.
Singer Heavy Duty 4432 Features


Built-in Stitches


32


Automatic Needle Threader


Yes


Maximum Speed


1100 stitches per minute


Motor


60% Stronger than standard


Interior Frame


Metal (Heavy Duty)


Sewing Accessories


Yes


Bobbin


Top (Drop-in)


Built-in Reverse Lever


Yes

User Impressions:
This sewing machine is very popular among users. It may be compared to other sewing machines of this price range, but this machine stands out. Due to the powerful motor, it can easily sew through thick fabrics like denim, etc.
As a cosplayer, you want a machine which has a lot of variety under its CV, so you shouldn't be afraid of going for it as this machine will go a long way with you as it has with a lot of satisfied users.
This machine from Singer focuses on the cosplay community. This machine is new and it hasn't been long in the market so user experiences for this machine would be quite low. So, we take a look at its features and figure out what it has to offer.
So, starting off with the same 32 stitches which include basic, stretch and decorative as the Singer heavy duty 4432 is offering. The machine has top drop bobbine and a one-step buttonhole for consistency.
The heavy duty metal frame comes in handy for the required long lasting durability as we all can expect. The powerful motor and the durable frame makes this machine a workhorse. This machine also offers adjustable stitch length and width for a much better control.
The machine also includes an extension table for a more stable level surface when you are sewing larger projects. The company boasts over the adjustable presser foot pressure which you can use for lightweight fabrics as well as the tough ones.
How can we not mention the look of this machine? Its really good if we talk about what this machine is trying to represent (Cosplay), so we can give it a good score in this respect. Also, this machine gives good storage as well as a free arm for smooth working, so it passes with great scores in this regard too.
There are a lot of accessories that are added with this machine which include different types of presser feet along with other accessories (like screwdriver, spool pin felt, seam ripper, soft dust cover, etc.) which you can find over at Amazon.
Checking out the features:
Singer Cosplay CP6350M Features


Built-in Stitches


32


Automatic Needle Threader


Yes


Maximum Speed


1100 stitches per minute


Motor


Seems to be similar to the heavy duty Singer 4432


Interior Frame


Metal (Heavy Duty)


Sewing Accessories


Yes


Bobbin


Top (Drop-in)


Built-in Reverse Lever


Yes


Adjustable Stitch Width


6mm

User Impressions:
This machine is new, so there are not many user impressions, but we have searched the web over this machine and have found a few users who are quite happy with their purchase.
It is basically considered as an upgrade to the Singer 4432 as we can also see above, but it is expected to be more friendly with the cosplay side of the users with upgrades here and there. The main accessory upgrades are the presser feet which you can go check out at Amazon.
So, would we buy this machine now?
Well, the machine does look good, and we would love to try it. So, if you have enough budget and you can trust the company's claims then go for it and let the world know about the new features this machine has to offer.
All of the machines reviewed are selected keeping beginners in mind. It is important that ease of work be kept in mind. If you are a cosplayer, your main focus is to have ideas and your secondary focus is to make those ideas real with the help of a sewing machine.
So, keeping that in mind, the best sewing machine for cosplay would be the one that offers simplicity, works well in a budget and brings out the best in the cosplay costume having different fabrics.
We recommend the Brother CS6000i because it is indeed the most user friendly machine out of all and it could be great to use with the vast features and considerable price range.
Here are some cosplay tips for beginners:
If you liked this article, you may want to join our community through this Newsletter. I look to provide something extra to the people who are interested! See you on the other side!