Since its inception, polymer clay is the most lovable and admirable material for art crafters. The basic reason for this interesting fact is that it is bendable and soft.
Art crafters think of an imaginative object, and the clay is in their hands to verify the thoughts. Because of its versatility, it is at the disposal of every type of art crafter.
What is a Polymer Clay?
Polymer clay is a modelling clay very popular among artists, hobbyists, and professional craft and art item makers. It is an oven-baked clay famous for its pliability, versatility, and simplicity.
Artists use polymer clay in the simulation of precious stones, wood and glass.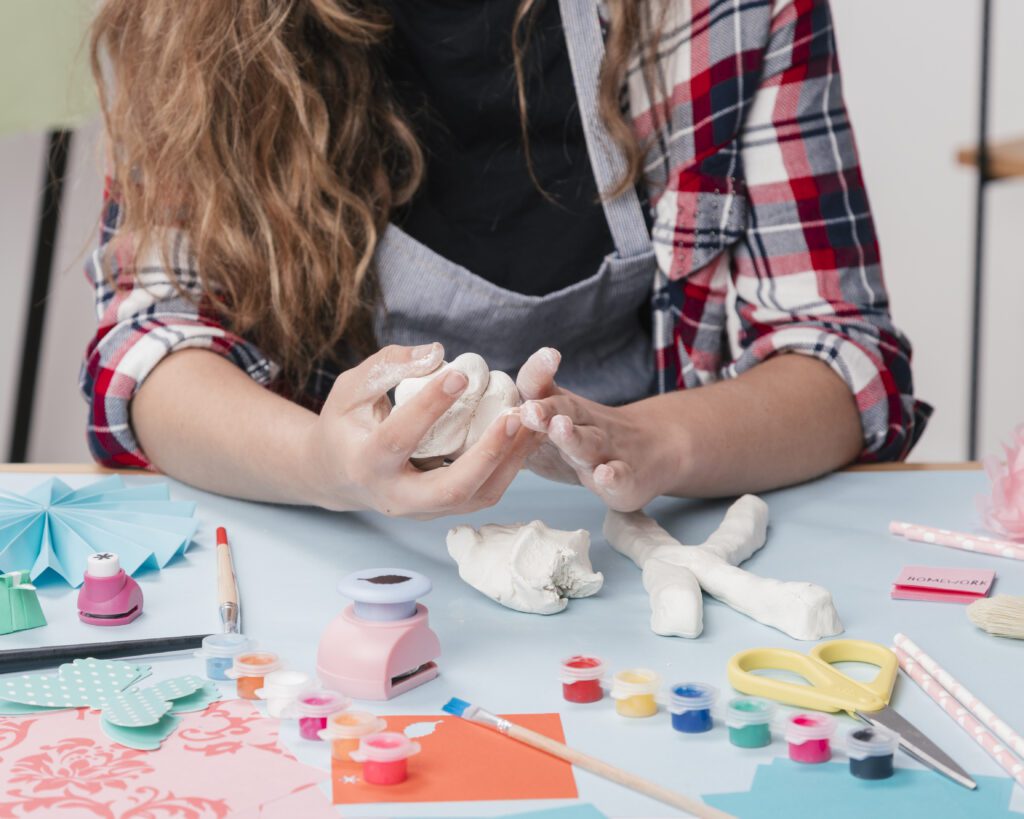 Composing agents of polymer clay:
Its composing agents are;
●     Polymers
●     Resins
●     Coloring agents
●     Fillers
Is Polymer Clay Natural Clay?
Polymer is not a natural clay, but it is baked in the oven and has its base in plastic and polyvinyl chloride.
As it is not natural clay, so the endeavors to make it work like natural clay take some effort. Despite having no clay minerals, when liquid is added, it works like a gel. Its main functions are to stimulate materials such as stones, wood, porcelain and wood etc.
Uses of Polymer Clay
Polymer clay has different valuable uses in the assortment of the following items.
Crafts
Jewellery
decoration prices
Scrap
Pottery
Sculpture
Some experts also find its use in covering a car, but you should seek the guidance and advice of an expert before doing this.
Polymer clay is not something that you think of as having limited uses in different domains. 
Polymer clay is also not something that has to be used with other helping materials. It competes with many other materials for similar properties.
As I have mentioned, polymer clay is a versatile modelling material. So, distinct techniques that work for other crafts and art-making disciplines such as glass making, metalworking, ceramics, etc. are employed to get the best results.
Is mixing clays valuable?
Mixing clays is an innovative idea to get the best results regarding project quality. Mixing clays are meant for stability, colors and customization of the project. In recent years, you may observe a spike in the demand for polymer clay.
Due to this market behavior, it is getting difficult to choose the color of your choice. You can mix different brands of polymer clay to generate the color of your choice. I recommended these brands that may satisfy your quest;
●     Ultralight Polymer clay is a lightweight polymer clay for mixing with other clays.
●     Also, Premo is highly recommended for its strong backing qualities.
Cautionary Measures While Working with Clay
These are the cautionary measures to remain protected while working with polymer clay.
Make sure you have ventilated your room when you bake the polymer clay in your home oven.
If you use anything that is used in food preparation or cooking, you must enlist those items. Don't use these items again in food preparation
 Although polymer clay is designated as non-toxic, you should wash your hand again and again before eating.
Small children and their related things must not be allowed to come ever nearer. They should be under constant supervision lest they should eat the clay. Wash your oven with baking soda and water.
Cautionary measures are necessary and important because they have direct links with your health. Professionals have learnt the specific and necessary techniques to be safe. But the hobbyist must read and act upon these precautions. 
 Is Polymer Clay Safe?
Polymer clay is perfectly safe, and the interesting thing about it is that it is non-toxic. 
People are especially concerned about their pets and small children. The only problem with the children is that they might be tempted to eat the clay. It can be avoided by laying down SOPs.
Another main concern is the use of an oven for baking polymer clay. The safety measure here is not to bake the clay at high temperatures. Though its fumes are non-toxic or barely toxic, yet you should avoid doing so. At high temperatures, the fumes can cause some irritation in your eyes and nose etc. 
Note: Many people in the market give green signals for the ovens to be used for baking food. Don't listen to the half experts. We do not recommend that. Our main concern is your safety.
How to Store Polymer Clay?
You should store the polymer clay in the resealable plastic bags if you have opened the original packaging. Also, plastic zip bags are ideal options in the case of polymer clay. The main purpose is to protect the clay from sunlight and dust.
 If you leave it open or vulnerable to sunlight, it may get backed and hardened and thus of no use.
Below are suggestions to follow:
Store in fridge; The best and the recommended place to store the clay is the fridge, but it should not contain food items.
Wax Paper; Another important thing is to store it wrapped in wax paper.
Plastic Bags have another advantage, that you can label the bags with the name of the colors. Anyhow, keep it in low-temperature storage.
What is Conditioning of Polymer Clay?
Conditioning of polymer clay is a process by which you make ready the polymer clay. 
In this process, air trapped in the clay is removed so that ingredients mix evenly. In this process, particles are aligned very easily and adequately.
How to Condition Polymer Clay?
Pasta Machines are available to condition the polymer clay. You need to cut the clay into chunks and feed them through the Pasta Machine several times.
The major benefit of conditioning is that it increases the pliability of the polymer clay. Pasta Machines are the best for this process. They easily condition the polymer within a short time. 
How to Bake Polymer Clay?
In the market, polymer clays are available with different strengths, and that impacts the baking time. Also, preheat your oven and bake it on index cards and foil ceramic tile.
Let the clay cool before you start working on it.
I advise baking the polymer according to the manufacturer's recommended time. That is usually between 230°F – 275°F. If you want to see whether the clay is baked properly, your fingernail should not enter it.
Can you paint polymer clay?
Yes, you can paint polymer clay. In the market, several paints are available, but your choice should follow the nature of your project. 
Acrylic paints are recommended with thin layers. You can apply these paints after and before baking the clay. Oil paints are also on the list for painting polymer clay. All that depends on the nature of the project.
Conclusion
These are the tips and the guidelines for the experts and beginners simultaneously. For beginners, working with polymer clay is a bit trying, but it all depends upon the interest and the step-by-step choices and options of working. We suggest beginners take a start from a neat, clean and cool work surface.
If you liked this article, you may want to join our community through this Newsletter. I look to provide something extra to the people who are interested! See you on the other side!