Some individuals contemplate painting shoes since these are something we use every day.
Whether you're trying to resurrect them or simply give them a fresh appearance, it may be a difficult undertaking, especially if you've never done it before.
It's crucial to know what kind of paint to use on shoes before you attempt to paint them yourself.
However, many people are still confused about which type of paint they should use on shoes.
So, here is the answer.
What Paint To Use On Shoes?
Fabric paint is suitable for cloth or canvas shoes, whereas leather or spray paints are suitable for leather or vinyl shoes. You should use paint pens to draw out more elaborate designs on shoes before you apply the proper types of paint.
While this answer highlights the several types of paint you may use to give your shoes a new lease of life, it is worthwhile to learn more about them.
When it comes to paints, there are a lot of things to consider.
Which Is Better? Leather Paint, Spray Paint, Or Fabric Paint?
The materials used to make shoes will determine the type of paint you choose on your shoes.
Since leather and vinyl have a glossy sheen, so spray paints will dry faster on them.
On certain kinds of shoes, using a brush might leave lines behind, thus making the shoes seem much worse than they did before you started painting them.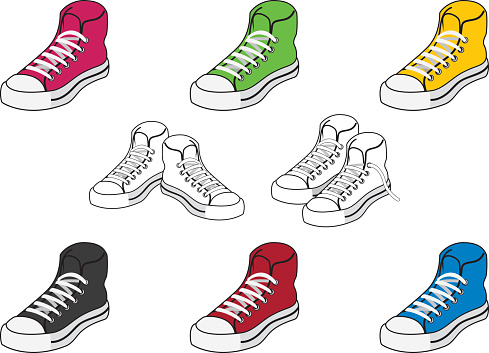 You may also use leather paint on leather and vinyl shoes.
There should be no streak, and you'll have greater control over the paint than you do if you spray it.
Leather paints are acrylic paints that dry rapidly and may need dilution for optimal results.
If you're trying a single color on leather or vinyl shoes, the advice is still to use spray paint.
Fabric paint is best used on cloth shoes since it blends in well with the material.
Paint pens, on the other hand, can be used on any of the materials to help you add some designs along the route.
If you're afraid about overflowing into regions of the shoe where you'd prefer to use a different color, they'll come in handy.
5 Great Paint Products For Shoes
Now that you've learned the fundamentals of shoe painting, you're probably wondering what items to use.
Before you buy something, make sure you verify the color and how it dries. As a result, you won't be surprised when your shoes dry.
We have discovered by research some of the best paints in the market, so you can be confident that you're choosing a product that will benefit you.
Below you'll find a collection of leather paints, fabric paints, and even paint pens.
Angelus has been making leather paint since 1907.
You've probably heard of them, and it's easy to see why they've been in the painting business for so long.
This version of the paint is getting a lot of positive feedback, with many people praising it.
It's evident from the product description that it works on sports shoes and boots, but the buyer may use this sort of paint for a variety of purposes.
Using a sponge pad or a high-quality brush, such as this Angelus Brushes with the Angelus Leather Paint Basic Kit, you will see that it performs the best and will not exhibit brush strokes.
If you're planning on spraying the rubber sections at the bottom of your shoe, you'll need the Plastic Dip Liquid Wrap.
It's a great paint for keeping the bottoms of your shoes looking new and clean for longer.
The beautiful thing about this product is that it can be peeled off, thus allowing you to start over if you make a mistake.
This paint, like some of the others on this list, has a wide range of applications that aren't limited to shoes. You'd be astonished at how adaptable it is.
Plasti Dip Liquid Wrap is a fun way to add a pop of red color to your outfit while also creating a non-slip surface.
It won't crack or chip like other comparable goods, and it'll stay flexible and colorfast even in harsh temperatures.
If you want to make your new and improved shoes out of a range of colors, this is the product for you.
This kit which comes in 14 various hues, has received a lot of positive feedback on Amazon.
There are a lot of things you can do with your shoes to make them tailored to you. Now that you have all of these colors at your disposal.
You may even use it on non-shoe things. So, you can kill two birds with one stone.
You may use MagicFly Permanent Fabric Paint Set on both natural and synthetic materials, and it has high water resistance. So, your patterns will last no matter what the weather is like outside.
Yet, this is another set with a wide range of colors that critics adore.
It's a reassurance to know that if you don't like one hue, you may experiment with others until you find the ideal match.
It saves you money by avoiding the need to purchase several different products to find the right one.
This set comes with ten colors ranging from bright to dark. So, you can switch things up at your own pace.
FolkArt Multi-Surface paints are multi-surface, satin-finish paints that will give your shoe designs precisely the correct gloss.
If you want more elaborate drawings on your shoes, you'll need paint pens. On Amazon, the Paint Markers have received rave ratings.
They'll readily mix with any other sort of paint you're using for the majority of the shoes because they're 12 various colors.
They will enable you to create eye-catching patterns that will almost certainly have people inquiring; from where you obtained your shoes.
The delicate points of the Paint Markers Set allow you to create detailed details. These paints dry quickly, are waterproof, and will not fade or smear.
Final Verdict
When it comes to painting shoes, it is clear the choices are unlimited. Knowing which paints to use on various materials is critical to your shoe painting success. So take your favorite pair of shoes that might need some TLC and start painting!
If you liked this article, you may want to join our community through this Newsletter. I look to provide something extra to the people who are interested! See you on the other side!