Artists all across the globe utilize a variety of surfaces to produce their paintings. Canvas is one of the most commonly used surfaces. When it comes to capturing the painter's imagination, only a canvas comes to mind. Nothing beats a canvas for capturing our imagination and creating a masterpiece that becomes a memory to be treasured forever. However, there are certain difficulties that painters may have while utilizing a canvas, one of which being creases on the canvas's surface (if folded). 
This article will discuss how to solve this problem and flatten a paint by number canvas.
How To Flatten Paint By Number Canvas?
The procedures for flattening the canvas are similar to those used to keep your garments wrinkle-free, with a few exceptions noted below:
1. Iron Your Canvas
You may try ironing your paint by number canvas with water and steam. However, doing so may destroy the print on the canvas. 
So you had better not. Instead, use a regular iron to eliminate the creases and push the iron-hard on the canvas. By pressing the iron firmly on the wrinkles, the wrinkles will disappear without the need for water or steam.
That is what we exactly do when we eliminate creases from our garments.
2. Make Your Canvas Tight
When mounting them on a frame, make sure they're held and stretched as tightly as possible. This ensures that the canvas is smooth and tight and any remaining creases are erased. Hold the canvas tightly until it is completely stretched and appears smooth and wrinkle-free.
3. Iron Using A Damp Cloth
Getting the creases out might be tough at times. You might have to use water to erase the creases, which you don't want to do. 
So, what are you going to do? The best option is to eliminate the creases from the reverse side. Place the canvas facing downwards, then cover it with a moist towel and iron it. You will see that the creases vanish as if by magic.
4. Do Not Always Roll Them
When storing them, make sure you're not curling them too tightly. Rolling them to store them may cause creases on the canvas' surface. We recommend that you maintain them on frames as flat as possible. 
Yes, you may have to reroll them and tote them while on the move. But if you do, you'll have to start the flattening process all over again.
What is A Canvas?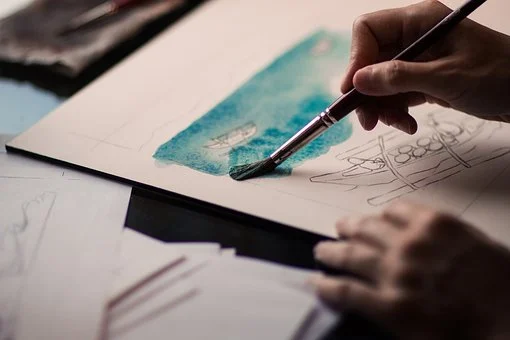 Canvas is a cloth that is woven clearly and intended to be highly strong. The canvas is strong enough and well-made to be kept for a long time and to withstand the test of time.
Canvas cloth is so durable that now it's used to construct backpacks, tents, sails, and marquees. It is also strong enough to produce decent canvas shoes. However, canvas works best when you employ it as the painter's work environment.
Most painters like painting on canvas because the pigments are used to dry and bond nicely to the cloth and last for a long time. The canvas cloth is stretched and fastened to a frame, which can be wooden or, more recently, constructed of various materials.
The canvas is covered with a fine layer to prevent the oil paints' oil from destroying the cloth and causing it to deteriorate. This coating is often composed of synthetic latex coating, which aids in the adhesion of the paints and prevents oil from penetrating.
What is Paint by Number Canvas?
The paint by Number method is a painting system designed to assist novices in learning to paint. By using a paint-by-number canvas, even a novice may produce a painting that appears to have been made by a professional artist.
You sketch an outline of an image on a simple canvas or surface with this approach. Then the image is split into forms and parts, each labeled with a number. Each number indicates a different color. The color kit, with the number, is sold separately.
So, what the aspiring artist has all to do is to pick up the brush and the color indicated by the number, and color the area indicated by the number.
This paint by number method is utilized in paint by number packages that include paint by number canvases and associated colors. These are very useful kits for aspiring painters and artists who want to study painting for enjoyment or to advance their careers as painters.
But there is one problem that all of these artists who paint on canvas encounter. The problem is that these canvases wrinkle, making it impossible to paint on them. After all, these are textiles, and they are going to wrinkle. So, to return to the original issue, how can they be flattened or wrinkle-free?
Final Verdict
To summarise, Paint By Number canvases are ideal for those who want to learn painting, even if you're an expert who wants to produce marvels. One issue that many artists are concerned about is the issue of wrinkles.
Use this article to learn about the characteristics of the canvases you paint on as well as methods for flattening and wrinkle-freeing them.
If you liked this article, you may want to join our community through this Newsletter. I look to provide something extra to the people who are interested! See you on the other side!