We're an affiliate
We hope you love the products we recommend! Just so you know, we may collect a share of sales or other compensation from the links on this page. Thank you if you use our links, we really appreciate it!
Does Paint Thinner Remove Paint?
Yes!  Your paint thinner can also function as a paint remover. Paint thinners are the solvents that dissolve the paint and reduce the viscosity. They contain volatile components including acetone, turpentine, xylene, naphtha, etc. This helps make the paint layer become thin; helps to wipe and clean up paint easily.
But they are mostly designed to dissolve or thin the oil-based paints. Oil-based paints when wet can be thinned by most paint thinners; they weaken the bond or binder between the paint and the surface where the paint is attached.
Because oil-based paints have a higher organic compounds ratio in them and they get dry at a much slower pace than water-based paints. Acetone is the only paint thinner that can thin or remove paint whether it is dry or not. Oil-based paint thinners cannot be used to remove latex paints, shellac, or lacquers.
Most of the paints become thick and viscous when remained open but paint thinner counteracts. If the paint thinner is used in one-third amount of the paint then paint becomes diluted and mostly in spray applicators, this technique is used to make paint spray thin and volatile.
What Is The Difference Between Paint Thinner And Mineral Spirits?
Paint thinners are basically mineral spirits derivatives; they only differ in their cost and odor. Mineral spirits are more refined and contain less stinky smell than paint thinner otherwise they both are petroleum products and are used in thinning oil-based paint and cleaning paint brushes, rollers, equipment's and surfaces.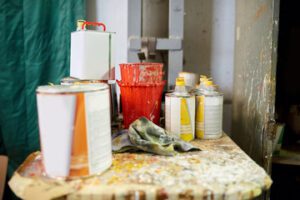 There is also a difference in paint thinners and the including terms that are also used for cleaning after painting projects; turpentine, etc. Turpentine is different from all other thinners because it is derived from the natural source e. g. The resin of living pine tree. It is also used as a paint thinner but it is highly flammable than other paint thinners.
How Paint Thinners Are Used In Cleaning Dirty Paint Brushes?
To clean paintbrushes with paint thinners, the following steps should be taken,
Paint thinner is filled in the bucket of metal or in the metal bowl.
Dip the brushes properly in the paint thinner. If it's dry paint then it should be soaked in paint thinner for several hours and if the brushes have wet paint then a few minutes will do the trick. (I've had quite an experience of using different paint thinners for my brushes and found The Sunnyside paint thinner great as compared to other thinners.)
After the appropriate time, take the brushes out of the thinner and rinse with water.
To completely dry the brushes bristles, hang them. Don't keep them on the ground with bristles touching the ground otherwise, the bristles will be damaged.
Paintbrushes are considered to be the most essential product for painting. After painting, there is a need to clean them properly to keep them in a good condition so they can be used for next the painting project. Synthetic brushes are mostly used once and then thrown away but natural and expensive brushes with natural bristles can be usable if they are in good condition.
How Does Paint Thinner Help To Remove Paint From Different Surfaces?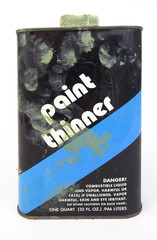 Some people question whether paint thinners are helpful in removing paint from wood, glass, and other surfaces or not. So the answer is, yes, it is useful and helpful. Paint thinners are also known as cleaning agents.
How to Remove Paint from Wood Using Paint Thinner?
Use an inexpensive paintbrush and apply the paint thinner on the wood surface from where the paint has to be removed.
After 10-20 minutes as the paint thinner softens, use a plastic scraper to scrap the softened paint from the wooden surface.
If the paint is not properly wiped then follow the first two steps again until the paint completely removes.
How To Remove Carpet Paint Spills Using Paint Thinner?
A paint thinner can damage the fiber or flake off the color of the carpet. So,
Use paint thinner with a cotton towel and swab a thinner on the carpet.
Then after applying the chemical, paint softens, clean it with a soapy mixture of dish washing liquid and warm water.
Can Paint Thinners Be Prepared At Home?
Some materials are used as an alternative to the function of paint thinner Like glycerin, vinegar, etc. But they cannot take the place of paint thinners because chemically prepared thinners can more properly do their function and remove paint than homemade paint thinners.
What Precautions Can You Take While Working With Paint Thinners?
Paint thinner is very itchy and has a stinky smell. Fumes that are released after opening paint thinner can cause respiratory and heart diseases or they can cause headache, nausea So to keep, you safe must wear safety wears like gloves, respirator, safety dress, etc.
Don't put thinner in the plastic cup or bucket, it will damage or destroy the plastic.
Paint thinners are flammable, so keep them away from such places.
Avoid using paint thinner for latex paint because water-based paint is easily removed by water-based thinners.
FINAL VERDICT
The crux of the whole topic is; paint thinners are used to dilute oil-based paints and to clean paint brushes etc. They are low volatile solvents and should not be used for latex, shellac, or lacquers. Paint thinners are effective for wet paint because oil-based paints slowly dry out but for dry paint, acetone is the best thinner.
Paint thinner is less costly than mineral spirits. Home-based thinners cannot take place of synthetic paint thinners. Avoid paint thinners from skin touch; can cause irritation and wear the safety equipment to keep you safe and sound.
If you liked this article, you may want to join our community through this Newsletter. I look to provide something extra to the people who are interested! See you on the other side!