Is it accurate to say that you are going back and forth with regards to getting yourself a Silhouette Cameo cutting machine? So, why buy a Silhouette Cameo? Being a craft lover myself, I can say that cutting can be a handful. So, getting yourself a Silhouette Cameo die cutting machine for craft would make it a lot easier for you to create masterpieces. You will be really amazed by how simple it is to operate and how much it can simplify your work.
Why Buy A Silhouette Cameo? (7 Reasons)
It will save a lot of your time and with its durability. It is a lifetime investment. It offers versatility to your crafts and is very easy to operate. With the use of silhouette cameo, you can cut the pieces with the exact shape you want. With its sleek and compact design, you are definitely going to love it. 
Following are the 7 reasons to buy a silhouette cameo:
You may already be familiar with a Silhouette Cameo, but without wasting any more time, lets jump onto my 7 reasons to buy a Silhouette Cameo.
Save your precious time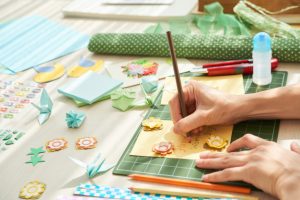 The die-cutting machine known as Silhouette Cameo not only gives you professional-looking projects but also saves your time along with providing you the quality you need. 
It is really handy to have a good cutting and embossing machine in your studio if you are a crafts person (in my opinion) because of a lot of reasons.The first one, for example, is time! Say, you are running short on time and you have got a lot of commitments, then this would come in use as you will be all set to create customized gifts for any occasion in no time.
Save on some extra bucks!
I am really impressed with Silhouette's quality (as are many other professionals, I am sure). We have pointed out that Silhouette can save a lot of your time and energy, but what its also going to save you is your extra bucks. In the long run, buying a good embossing machine like Silhouette really saves you quite a lot of money as it is a lifetime investment. 
If you invest once in a good Silhouette machine, it could last for a good time. Moreover, purchasing a quality machine doesn't only give good quality results but also enhances the beauty of your craft project. So that's two birds with one stone right there. The professional finishing would definitely add in the 5 stars to your work which would result in increasing demand for your crafty projects and increasing return on your investment (more money!).
Add versatility to your work.
Being a crafter, you can relate to having cravings about starting a DIY project but the fun usually gets over quickly when you end up having broken or rusty blades that aren't sharp enough and would eventually turn your feeling of happiness into a nightmare (cutting is known to be an essential part of crafting). 
So, every crafter dreams of having the best blade in town that could save some time and give the perfect finish. This is when the Silhouette Cameo comes in (I know, its dramatic, but its true). It is most commonly known for its quality finish and time-saving attributes which makes it a big hit in the market!!
It is really easy to operate
Silhouette Cameo is really easy to operate and requires no science. All you have to do is to go through the user manual thoroughly before using it. Once, all the settings are adjusted as per the manual guide and the blades are sharp enough to pierce through your material, you don't have to delay and can start off with your new DIY crafty project.
Perfect finish
Silhouette Cameos are completely outfitted with a double carriage for numerous cuttings. So, it is ideal for individuals who are utilizing these for SME's or different business profitability as it would give you the ideal cutting that a normal blade won't. The final product would not have rough edges or won't be either too big or too small in size; rather it would be perfect in size with a perfect and professional finish.
You won't have to carry a truck full of cutting supplies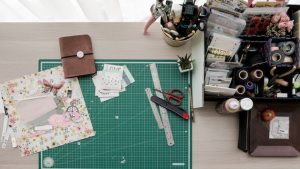 Silhouette Cameo can prove to be a lifesaver for so many reasons. The most convenient one is that you won't have to carry a mass of cutting supplies (including different blades, scissors and what not?!) After getting your hands-on Silhouette cameo, all you would have to carry is your Silhouette and nothing else. Also, the Silhouettes come with all these basic accessories such as blades and mats which can be carried easily with it.
It is sleek and compact in nature
If it's the space that you are concerned with, that it would take up a lot of space in the house, then at this point, you really don't have to stress out because the new Silhouette Cameo 4 is really sleek and compact in design just like any other ordinary printer and can be placed easily. 
You can place it anywhere in your studio or even in your room on a table where you most probably tend to work. Also, because of its sleek and compact design, you can carry it anywhere you want without worrying about it occupying a lot of space.
What Are the Different Types of Silhouette Machines?
Are you confused between choosing the best Silhouette machine be it cameo, curio, or portrait?
Cameo Vs. Curio
The fundamental contrast between the Silhouette Curio and Cameo are the abilities and size. The Curio is intended to have more assortments with regards to abilities, such as embellishing and drawing, yet the Cameo with its 12-inch cutting width is best for cutting materials.
Curio Vs. Portrait
These two models of Silhouette are among the top of the line cutting machines available out there in the market, and they, for the most part, get a lot of good reviews from the clients.Silhouette Portrait is a bit cheaper, while Silhouette Curio is on a bit more expensive side. Clearly, the price differences imply that there are some vivid contrasts between these two cutting machines. 
You can pick Silhouette Portrait in the event that you truly need the capacity to cut 8.5″ x 10′ lined media. If not, Silhouette Curio is the best approach as it is all the way more impressive and adaptable. It can deal with thicker and progressively tougher materials, and it is, likewise, ready to play out various things including emblazoning, embossing, texturing, and carving.
Cameo Vs. Portrait
The most ideal approach to depict Silhouette Portrait is the stripped-down starter variant of the machine. It has restricted capacities,; no Dual Carriage and can just work with dainty and simple materials like paper and vinyl. You can say that it is the stupider form of Silhouette Cameo. 
All things considered, if you need something that is modest and does a couple of basic things, then Portrait may be for you. Another distinction between Portrait and Silhouette Cameo is the LCD contact screen and the greater cutting surface. Appearance bolsters remote network with Bluetooth.
Which Is the Best Silhouette Cutting Machine?
We all know about the different types of Silhoutte machines available out there in the market. One of the most common kind is the Silhouette Portrait. It is common because of its easy to carry, compact design along with the up to date features unlike other models. It can be used for products that are lighter in nature such as paper and vinyl. 
On the other hand, the latest Silhouette Cameo 4 (check it on Amazon by clicking here) is also trending because of its sleek design and incomparable features as you can approximately use it for more than hundred types of materials, be it crafting material, fabric, acrylic, etc. This machine has been on high demand because of its unrivaled features which make it an exception for the user as you can use it for different materials depending upon your project. 
In contrast with the Silhouette Cameo, Silhouette Curio can not process paper and vinyl material although the rest of the functions are almost the same (like you can do embellishing and embossing with these despite the fact that both of the machines have same mechanism to process).
I myself love the Silhouette Cameo 4. I have written in much more detail about Silhouette Cameo 4 in my article on Silhouette Cameo 4 vs Cricut Maker. Make sure to check it out.
Silhouette is known for having one of the best die-cutting machine lines, which includes three types of machines i.e. curio, cameo and portrait. The main purpose behind the manufacturing of silhouettes is to save up your time, energy and extra bucks with providing high-quality professional finish.   
I have stated 7 reasons on why buy a silhouette cameo. I think these are more than enough to invest for silhouette cameo for a lifetime (I really love it). I hope this article was helpful for you and has cleared all your confusions about buying a silhouette cameo.
If you liked this article, you may want to join our community through this Newsletter. I look to provide something extra to the people who are interested! See you on the other side!