It is not uncommon to use puffy paints on different types of surfaces such as canvas, glass, wood, plastic, and fabric. Puffy paint adds an amazing texture to your artwork and dries to a soft 3D finish that won't crack or peel. If you want to make puffy paint that is of higher quality, you should set your timer to 48 to 72 hours so that the paint is dried completely. You can use puffy paint to dry your project surface in a raised puff. You can use this additional dimension to design clothing, shoes, paper, and wood, among other surfaces, with special effects.
The paint puffs up as it dries, it will lose some of its height but you're still left with a super fun 3D texture. And then when it dried, the colors got way darker. Puffy paint resembles acrylic craft paint when squirted out of its bottle, but it increases in size as it dries. Puffy paints containing fabric can, in most cases, be machine-washed, so you can use them to decorate washable clothing permanently.
Puffy Paint On Canvas
All types of surfaces, including canvas, paper, fabric, wood, plastic, and glass, can be painted with puffy paint. The bottles are small easy to squeeze and come in 4-oz sizes. There are simple, how-to-use instructions printed on each bottle. The paint puffs up as it dries, giving it a cloud-like appearance. Puffy paints are quite similar to acrylic craft paint.
How To Use Puffy Paint On Canvas
Firstly, you need to choose a design to create on a canvas panel. Choose suitable colors that you would like to use for your design. Draw your design and start using puffy paint on canvas. Squeeze the bottle of puffy paint onto your canvas.  Add any finishing touches you'd like, and then let it dry overnight. If you want to make puffy paint that is of higher quality, you should set your timer to 48 to 72 hours so that the paint is dried completely. Use a heat tool to make the paint puff up. You can hold the tool about 2 inches away from your canvas. You can use puffy paint to dry your project surface in a raised puff. You can use this additional dimension to design clothing, shoes, paper, and wood, among other surfaces, with special effects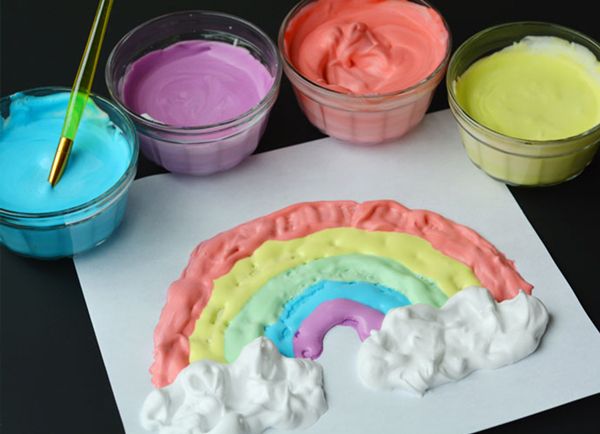 How To Make Puffy Paint
You can add a fun texture to your artwork by using puffy paint. You can buy it from any craft store but you can also be made it at your home by using some simple and cheap products. There are multiple ways of making puffy paint, the simpler one is making up easy 3 ingredients puffy paint. The other is preparing Flour based Puffy paint.
Puffy Paint Ingredients:
Easy 3 Ingredients Puffy Paint 
Flour Based Puffy Paint
Self Rasing Flour (1 cup) 125 g
Table Salt 1 cup  (300 g)
Water (1 cup) 237 ml
Food coloring
Mixing Up Simple 3 Ingredient Puffy Paint
First of all, to mix the glue and shaving cream, take an equal amount of white glue and shaving cream to a large bowl. Keep mixing the two until they are fully combined in a thick cream. Don't use shaving gel, make sure to use shaving foam. You can use chopsticks, popsicle sticks, or even straws for mixing the glue and shaving cream, to prevent the paint from sticking to your spoons.   
However, once the glue and shaving cream are mixed well, set out a plastic cup for each shade of paint that you want to make. Divide the mixture of shaving cream and glue into several cups. Add a little amount of the glue and shaving cream mixture to each cup. You should use disposable plastic cups because it can be difficult to wash the paint out of containers.      
Add some food coloring to each cup in your chosen shade to color the paint. Stir the coloring into the paint mixture until completely blended. The amount that you will need depends on how much of the paint mixture is in each cup and how dark you want the shade to be. When you are adding the food coloring, keep in mind that the paint will dry darker than it appears when it's wet.
Lastly, when your paint shades are ready, use a brush to paint them on plain paper in whatever pattern you like. use a good amount of the paint to make sure that it has a puffy tex
Preparing Flour-Based Puffy Paint
To prepare the flour-based puffy paint, you need to mix table salt and flour. Be careful about the measurements, add 1 cup (125 g) of self-raising flour and 1 cup (300g) table salt to a container or bowl. Use a spoon or fork to mix the flour and salt completely. You must use self-raising flour in the paint to get the puffy texture.  Don't use kosher or sea salt, it may alter the texture of the paint, use regular table salt only for the paint.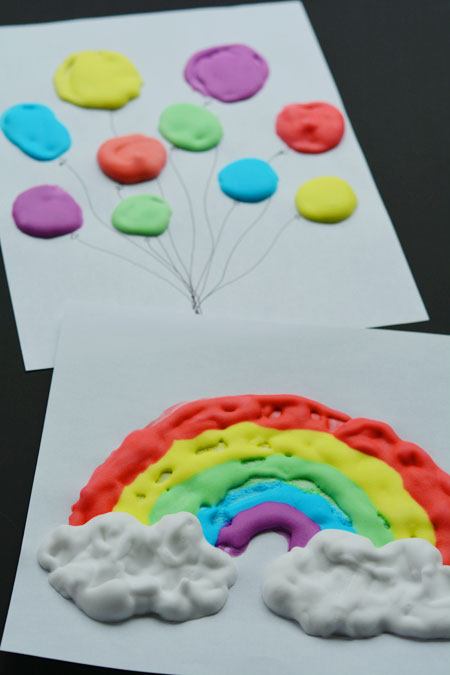 Later, once the salt and flour are blended completely, add water to make a paste. Stir the water slowly into the bowl. You can add up to 1 cup (237) but only mix in enough to create a smooth thin paste that has a similar texture to yogurt. If the paint dries up at any point while using, you can simply add a few drops of water into the mixture. Separate it between several bowls when the flour mixture has the proper consistency. Start by adding a small amount of food coloring and seeing how you like the color. If you want a deeper color, add more food coloring. Allow the painting to dry for several hours overnight to ensure that the paint is set.
Multiple Uses Of Puffy Paint
Homemade puffy paint is used for painting on canvas, labeling, jewelry, costumes, and decoration. You can make homemade stamps by using a wooden craft block (or anything really, you can use a bottle cap for small designs) paint your design on the surface with puffy paint. Let dry for a few hours and then use your new stamp for your fancy letters or for the kids to play with. Hobnail glasses (which are glassware with distinctive bumps on their surface) are such cool pieces to have around your kitchen! You can make your own by sticking a piece of tape down the side of any glass or jar, to use as a guide. Dot your puffy paint down the side of the tape for a nice, straight line. Then spray paint for gorgeous DIY glassware!
Conclusion
To conclude this article, puffy paint can not only be used on fabric but can be used on all surfaces. You can easily make puffy paint at home with simple ingredients as mentioned in this article. But homemade puffy paint should be used the same day you make it. Shaving cream loses its puffy texture by the next day so if you store it, you'll be left with runny glue.
Beatrix Ainsley (Bea to her friends) is an abstract artist who was heavily inspired in her twenties by the abstract expressionist movement of the 1940s. Since then Bea has acquired three degrees in Science, Education and most importantly Fine Art. Her art works showcase exploring emotion and introspection of self. To achieve this – the use of bold, sweeping, intricate layers of color, and spontaneity of form is enhanced by reflecting on decades of life experiences. Bea has amassed a vast knowledge of art in all its forms, and hopes to pass it on with her contributions here.