A farmhouse table beautifully represents the class and flavor of your family. The more elegantly it is painted, the more class it will add to your farmhouse.
Be careful about the choice of colors for your farmhouse table, during a gathering with friends, and family over a home-cooked feast, the elegantly decorated and painted table will refresh the mood.
How To Paint a Farmhouse Table?
The color scheme for a farmhouse table should not always be muffled. Using bold, bright, or deep colors will give a beautiful finish. Prefer to use vibrant colors because they create a clean and simple look.
Guideline To Paint a Table In Farmhouse Style
1. Start by cleaning the table set.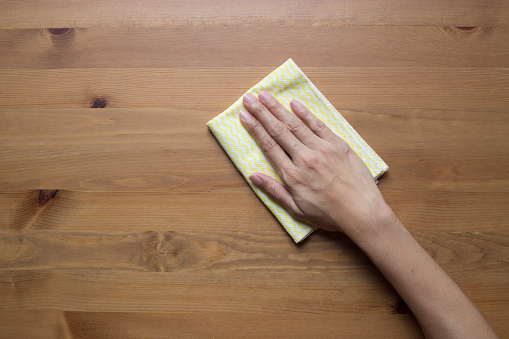 2. Then use a paintbrush to apply the black wax over the wood farm table and chair tops. After you have applied the wax, remove the remaining wax especially to have a dark wood tone. Before you rush on to applying the second color, make sure the wax is fully fried at least for 24 hours.
3. For an artistic look, give the top of the table a weather gray look. You can create this look by mixing black and white wax and then applying it to the tabletop. This will create a mesmerizing tone for your table like this,
4. Apply the water repellent finish, but firstly give wax ample time to cure. The one thing you must remember is that you should allow the wax to fully cure before applying the topcoat.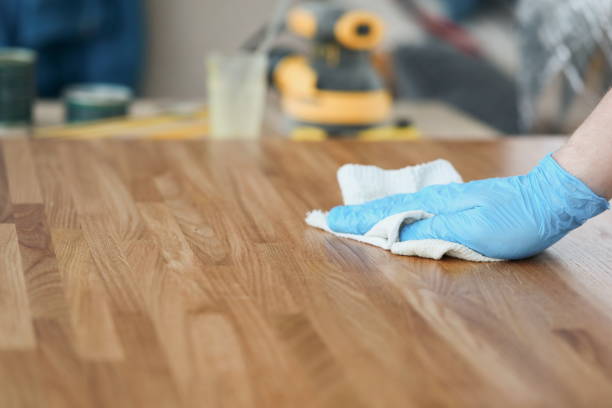 Five Best Colors For Farmhouse Table
Picking the right color for the farmhouse décor is a tricky game. You look for the tone which not only suits your farmhouse interior but also satisfies you. Following are some best colors for the farmhouse:
Gray is the most common color choice perfect for farmhouse style. There are more than fifty shades of gray in the market. Go with the best one according to your farmhouse.
A slightly darker version of gray comes out beautiful when paired with natural woods. This contrast looks elegant every time.
Apart from grayish shades, antique white is also a popular choice and looks beautiful when contrasted with a gray tone.
The light green and blue color add a natural touch to the farmhouse look. These shades provide a relieving environment to refresh minds.
The addition of black rightly styled with natural copper and wood tones creates a quintessential modern style.
Farmhouse Table Makeover
The most important step before you start the makeover of any furniture item is to take off any type of paint or finish and disassemble it. It can be easily done by using an orbital sander and a coarse grit sanding disk. This task can also be achieved manually using sandpaper, but it is time-consuming and requires a lot of effort. Once you have sanded the table well, you won't see any stain or paint finish.
The next step is to go over every part with a wet rag where you have sanded. The main purpose of this step is to get rid of any dust particles.
You can take an old kitchen rag and wet it then scrub every surface that was sanded. Try to make sure you get any sawdust out of the little cracks in the wood. Let the wood dry completely. Move onto the next step unless you feel that woody texture on the surface of the table
Sand the table parts again to ensure that the parts are now super smooth and are perfectly ready for paint. To verify this, run your hand over the parts and feel whether any grain is present or not. If it is fine and smooth, rush towards the next step.
Start by painting the disassembled legs first using a solid color. This is easy and quick as the legs need only two coats to get a perfect finish. Wait till the legs get dry properly and then reassemble the table part. To paint the tabletop with reassembled parts is much easier. Use water-based paints on the base if you want to set the tabletop as early as possible as they dry quickly.
We have used Minwax Espresso for the tabletop because it is a highly recommended brand. It is oil-based and paints in a well-aerated area. Use light strokes to apply the first coat. Wait for an hour after the first coat is dried and then apply more coats as per need. After the final coat, wait for 24 hours till it is completely dried.
For the protection of the table paint and to increase its lifespan, you can seal the tabletop with polyurethane. It is also easier to clean and you are all set to use a beautiful farmhouse table.
Tips to Improve or Modernize Tabletop
Following are some important tips to improve the tabletop:
Choose the color theme and the relevant Scenario according to the interior of your house or farmhouse,
Engage with your family members on ( ShareASale link) coffee table with a hot cup of coffee and have their views and suggestions about the color scheme.
It might be possible that what you have imagined, does not come out the same. In such a case, don't be disheartened, you can start it again with new and better ideas.
Related Questions
What type of paint would be best for a dining table?
For a dining table, you should select a high-quality water-based enamel paint. The paint will give a hard finish that's like oil paint. As you know kitchen tables take a beating, and they should be painted to withstand plates, cups, and other such types of objects.
How to seal acrylic paint on wood?
You can use a clear sealer like polyacrylic to seal the paint on wood. It is important to get a protective finish to prevent any damage or discoloration.
What should be the width of a farmhouse table?
Most of the farmhouse tables are in between the width of 36″ and 40″. A perfect table for four seats has an approximate length of 48″. If it is for six people, prefer a table that is at least 60″ long. Similarly, for six to eight people, 78″ length is ideal.
Conclusion
Painting or makeover of any type of furniture item whether it is a farmhouse table, or a kitchen table is a tricky yet easy task.
A beautiful makeover of a farmhouse table will be pleasant both for your mind and house. With little effort, you can turn your old-fashioned table into the gorgeous one, you have been dreaming of!
If you liked this article, you may want to join our community through this Newsletter. I look to provide something extra to the people who are interested! See you on the other side!