Painting mason jars is an art and you, as an artist should know well what colors or tones would be the best for your artwork.  Mason jars are endlessly versatile, and you can use them for decoration purposes as they provide a casual and elegant vibe for centerpieces.
What Kind of Paint to Use On Mason Jars?
The best paint for the mason jars is acrylic especially when you are painting them from the inside. These are the best choice only if you use the acrylic painted mason jars for decorative purposes because the acrylic paints are not waterproof which means they will wash away in the water.
Painted mason jars give a vintage vibe and are suitable for various occasions.  The contrasting colors on the interior and exterior will give a unique look and could serve as a perfect gift for friends.
How to Paint Mason Jars?
You can paint the outside of the jars with chalk or acrylic paint to give the jars a distressed look. Alternatively, you can paint the inside of the jars to create a bold color that doesn't scrape away.
Painting the mason jars is a fun activity and is quite easy and quick to do. Just mess with the old mason jar with your creative skills. Follow the guidelines given below to paint your mason jar:
Step 1. Use Rubbing Alcohol To Clean Your Mason Jar
Cleaning the mason jar is essential to get rid of any grease stains or oils from the outer surface as this will restrict the adherence of the paint.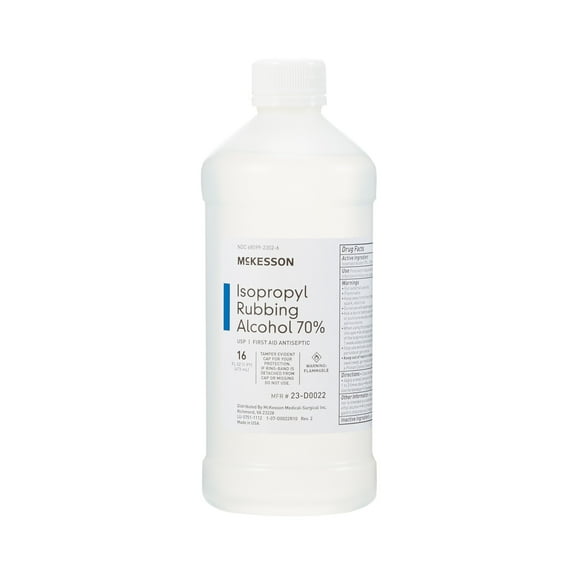 Not only for cleaning the mason jar, but also, Using rubbing alcohol found commonly on Amazon is a great product to clean almost every surface of my house. Use cotton to apply or rub the alcohol on the outside of the jar. Only clean the outer side of the jar with alcohol because it can damage the inner side.
Step 2. Start Painting Your Mason Jar
This step is really simple, and you only have to apply the paint on the outside with the help of a brush. Yep, it's that simple.
The amount of paint depends on your choice. Apply two or three coats, but in between coats you should wait until the first coats dry, then move on to the next one. Another important thing is to avoid back and forth brushing and let the coat dry with time.
Acrylic paints are a better choice, but craft paints are much more affordable, and they work great!
Step 3. Distress Your Mason Jar
Once your painted mason jar is dry, distress it with the help of sandpaper. Create the distressed look according to your need but prefer to focus on the rim and the labels.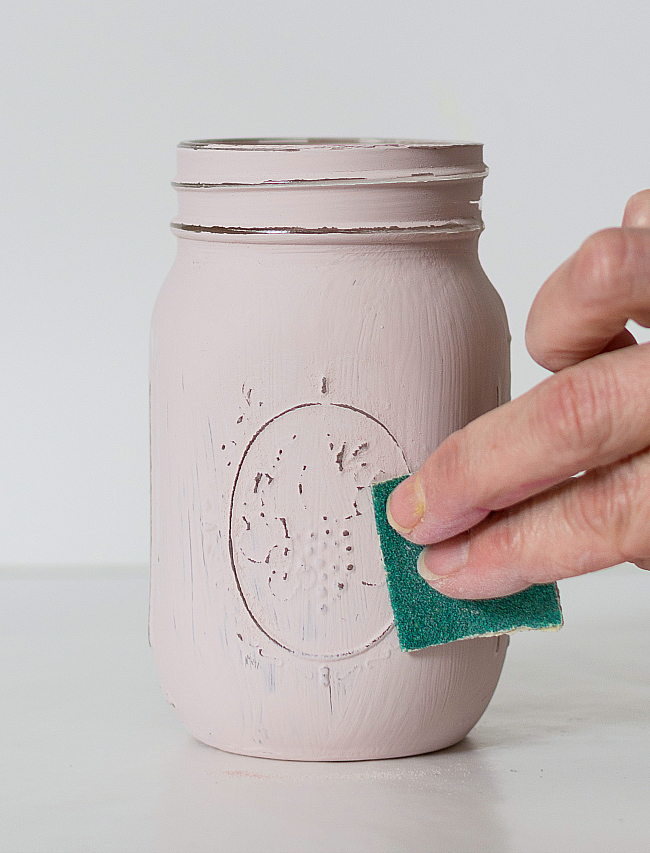 How To Paint The Inside of Mason Jars?
Search for the best colors to paint the inside of your mason jar. Prefer to take bright colors including blues, pinks, or purples as they are trendy choices for painting inside of mason jars. You can buy acrylic paints from both stores and online.
Acrylic paints are the best to paint mason jars but in the case of inside painting, they are not a good option because they are water-based, and you cannot fill the jar with water after painting.
Art is all about experiments. Painting deals with various colors, make a mixture and then apply to the jar to see what comes out. Mixing colors of your choice and wondering what the route would be is a joyful experience.
Creatively Painted Mason Jars
Mason jars are always the items that give a homey and creative look. They are recognized as a kitchen item but using some DIY skills, you can expand their usage beyond the kitchen and especially for the home décor.
The common mason jar having a tin lid can serve as a great decorative item on its own. Besides drinking glass or candle holders, you can use them in home décor by upgrading them.
â—Â Â Â Â Â Â Â  As a Tissue Container
Ever got tired of the boring and old-fashioned plain tissue box?
Use your artistic skills to create for yourself an awesome personalized tissue jar using a mason box. Customize and paint the jar according to your desire.
Using the mason jar as a pencil holder is an amazing idea. Use your spare town to create something new. A beautifully designed mason jar pencil holder can serve as a perfect gift for your teacher.
It is indeed an amazing idea and a perfect way to give your mason jar an expensive look. You just need to paint the jar beautifully and put flowers in it to make an elegant flower vase.
Some other important uses of painted mason jars
Here are some ideas on ways to use painted mason jars in your home:
Kitchen utensil holder
Succulent planter
Grew indoor herb garden in mason jars
As a wood sign for wall
Soap dispenser
Hold doggie treats
Bathroom storage
Make a lamp
Office organization
As a piggy bank for a rainy-day fund
This is a fun activity and painting the mason jars can be addicting! It is such a simple way to create a unique piece of decor for your home. Choosing colorful tones to add uniqueness to your house is something amazing.
Water-proof Colored Mason Jars
As the acrylic paint-based mason jars are not waterproof, let's dig into the way how to make your mason jar waterproof. You can also use colored mason jars for different purposes.
In the bottle, mix the paint with just enough acetone/polish remover that helps to thin the paint's consistency.
After mixing, slowly swirl the bottle to mix the paint and acetone thinner until the mixture coats the entire inside of the bottle.
Initially, the paint seems to be cloudy, but after it has dried, it will look like translucent
Let the paint dry for several days before putting water into it.
Related Questions
How to use chalk paint to paint your mason jars?
Before you paint your jar with chalk paint, make sure you have picked the right kind of paint.
Spray chalk paints are much thinner than the regular ones, so choose what suits you the best depending on the type and quality of your mason jar.
Do spray painting the mason jars is better than simple painting?
It is found that panting the mason jars with the brush is tough as the paint runs over the glass producing an uneven coverage. Spray painting is much better than brush painting.
Conclusion
Painting mason is a great activity to add value to your home décor. It can be either done by painting it with acrylic or chalk paints.
Choose a color according to your choice, that suits your flavor. Try to add a rustic and vintage touch to the jars to increase their contribution to home décor.
Beatrix Ainsley (Bea to her friends) is an abstract artist who was heavily inspired in her twenties by the abstract expressionist movement of the 1940s. Since then Bea has acquired three degrees in Science, Education and most importantly Fine Art. Her art works showcase exploring emotion and introspection of self. To achieve this – the use of bold, sweeping, intricate layers of color, and spontaneity of form is enhanced by reflecting on decades of life experiences. Bea has amassed a vast knowledge of art in all its forms, and hopes to pass it on with her contributions here.