If you are not sure of embossing with your Cricut machine and are thinking about changing your devices, fabric appliques, felt and knit fabrics, crepe cuts, and digital sewing patterns, then don't get distracted in all these details without knowing them well. You are in the right place and today, we'll be covering all the queries regarding the question "can you emboss with circuit maker?" or "how to emboss with a Cricut machine" along with the essential products needed for embossing with a Cricut.
Can You Emboss with Cricut Maker?
There are two ways with which you can emboss with circuit maker the first is by using the scoring stylus and the second one is to use and embossing tool also known as pen tool.  
Cricut machines are known to be multifunctional machines; you can definitely emboss using a Cricut machine. Let's discuss what actually embossing is and how it works when you try to emboss with your Cricut machine. So, embossing basically rises up the surface of the project you're working on. There are two well-known ways to emboss by using your Cricut machine.
The first and the easier method to emboss with a Cricut machine is using the scoring stylus to fundamentally score a design on your project rather than straight overlap lines. This process can add in a little depth to your projects.
The second way to emboss with your Cricut machine is to use an embossing tool that is often known as the pen tool which resembles an actual pen but writes with an exceptionally special ink. After writing down with the special pen, you spread the 'wet' ink with embossing powder. Doing this would cover the design properly and then you can use a heat gun that would basically soften the powder to the material which would result in a raised effect.
What products do I need to start off with embossing on a Cricut machine?
To emboss with the Cricut machine, you would the following things.
The very basic thing that you will need to emboss on the Cricut machine is the Cricut itself (obviously :3)
Cricut Scoring Stylus
A Cricut styling pen (although it is not necessary but optional as it really simplifies things)
Get your hands on a heavy white matte cardstock (for the stencil) that can be printed and is thick enough to cut manually. We had been studying a lot with cardstocks and now finally we can recommend one that is easily available out there in the market. So, try using recollections 110lb/300 gsm card stock from Michaels. Keep in mind that this is excessively thick in nature for certain printers, so try selecting the thick cardstock on which you can print according to your printer.
The fifth product that is known to be an important product for embossing with the Cricut the machine is the 'media' to emboss. As per our research and experience, you should get your hands-on Neenah 67 lb. Exact Vellum Bristol, but any light to medium weight card stock will work. All you have to do is just Cut it into 4 x 5-1/4″ shapes for this demo (to fit an A2 card front)
What Is the Difference Between Debossing and Embossing?
You might have heard about embossing, which is known to be a pressure that is applied to the rear of your material to make a raised 3D depth impact. Whereas, on the other hand, Debossing is the inverse, as your material is pushed down to make the depth. Since the Maker applies pressure starting from the top, the impact of this instrument is a deboss and not an emboss.
Which particular materials can I deboss?
There aren't any specific materials that you can deboss, but it is almost the same as embossing. Debossing works best on materials such as cardstock, normal craft papers that are sparkly or glitter, Kraft board, and lastly, also works best on foil paper. In any case, it even works with less traditional materials like basswood and leather, but you'll have to put a little extra effort (such as wetting your letter before you start debossing it).
Would flip over the deboss material give Does the same effect as embossing?
If you are thinking to flip over the deboss material to get the same effect as embossing, then the results might shock you as it would be barely noticeable on the opposite side. But still, you can give it a try (with thinner material and not a thick one).
Does the Circuit maker really require a fine debossing tip?
The Cricut machine requires a fine tip debossing tool for debossing as the device pushes the material in to make pretty designs. It is something that is totally opposite of an embossing device. Deboss any design that you'd like to; be it enriching prospers, designs, monograms, logos, seals, and that's only the tip of the iceberg. This moving debossing ball, with a more extensive scope of movement, gives you a free rule to redo, customize, and structure with mind-boggling unpredictability.
You can make a wedding card, note to say thanks with your monogram, or add thrive to blessing boxes, labels, and that's only the tip of the iceberg once again. It also makes a breathtaking design on foil cardstock, covered paper, gleam and sparkle paper, foil cardstock, basswood, and substantially more. The debossing device is usually around about $40-50 for both the tip and lodging or around $20-30 for simply the tip.
What Cricut Machines Work with The Debossing and Embossing Tool?
The Debossing Tool was planned explicitly for the versatile device arrangement of the Cricut Maker (which means it has that gear on top). With the Quick Swap Housing, it won't work in the Explore machines. In case you're in the market and planning to invest in a good Cricut machine, then you're likely attempting to choose between the Cricut Explore Air 2 and the latest Cricut Maker. So while comparing both of the Cricut machines for debossing and emboss, the tools both of the machines use to score, in any case, are unique.
The two machines can utilize the Scoring Stylus, which essentially utilizes strain to make a scoreline. The Maker has an extra tool which is known as the Scoring Wheel. Rather than utilizing a hauling movement, it utilizes a little wheel that floats along your material to make a scoreline. One objection about the Scoring Stylus is that score lines are excessively blackout on certain materials. There are different approaches experimented to get around this. 
Moreover, the Double Scoring Wheel permits you to score thicker, covered materials so that they twist without breaking along the overlap line. Make sure that there is a point to put your material upside down on your mat so that it can be folded properly.
How Do I Make A Debossing Line in Design Space?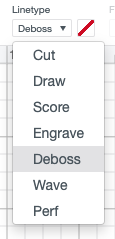 Alongside the new instrument, the Cricut made an update to Design Space in which you can change any shape or the line into a debossing line. For your task, you can embed a scoring line into your project and afterward, transform it into a deboss by using the dropdown Linetype menu which can be located at the top of Design Space.
FINAL VERDICT
To wrap the blog up, it is concluded that you can officially emboss and deboss with a Cricut machine. All you have to do is to understand the difference between emboss and deboss.  You've already mastered the art of embossing with all the basic concepts of using the Cricut machine for embossing and debossing along with their differences and properties.
I hope this article cleared all your doubts about "can you emboss with circut maker?".
Beatrix Ainsley (Bea to her friends) is an abstract artist who was heavily inspired in her twenties by the abstract expressionist movement of the 1940s. Since then Bea has acquired three degrees in Science, Education and most importantly Fine Art. Her art works showcase exploring emotion and introspection of self. To achieve this – the use of bold, sweeping, intricate layers of color, and spontaneity of form is enhanced by reflecting on decades of life experiences. Bea has amassed a vast knowledge of art in all its forms, and hopes to pass it on with her contributions here.