Hey there! I'll help you avoid the headache of figuring out what you need to know about the Cricut machine and vinyl cuts. Before I got my Cricut, I didn't understand anything about blades; I even thought I need the same blade I use for fabrics to cut the Vinyl.
You see, it's not that simple, but once you finish reading the post, it will be! Before jumping into this topic, Let's have a little overview. Blades allow your Cricut machine to cut all of your projects. However, and depending on the type of material, you'll need a different kind of blades. And just like that, for vinyl cutting, we use a fine point blade.
Today's post is all about cutting and applying Vinyl and which Cricut machine could do it, It's super easy, and it's really fun once you get the hang of it.
Do All Cricut Machines Cut Vinyl?
Yes, all Cricut machines do cut Vinyl. All models of Cricut machines can cut Vinyl, but there are some differences in each model's capabilities.
If you are planning on cutting Vinyl with a cricut machine, you should ensure that they're getting one design to cut Vinyl. Luckily, all three major lines of cricut machines, the Cricut joy, Cricut Explorer air 2 and, Cricut maker— all cut Vinyl exceptionally well.
Cricut Explore Air 2 vinyl cutter is considered the best because it's reliable, accurate and, versatile in material and function.  It can not only cut but also etch, emboss, scan, draw and, many more. It also creates custom stickers, decals, labels, magnets, signs, stencils, etc.
What Is A Vinyl?
Vinyl is a fabric that comes in various types, colors and textures and has a wide array of uses, all containing the same great durability.
Vinyl consists of two different parts: the top layer and the bottom layer. The top layer is the actual Vinyl. It has an adhesive backing. This is the material that is cut and applied to create your project.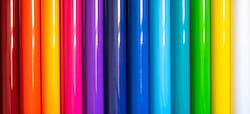 The second layer is the paper liner. You can say that Vinyl is like a sticker. You have the sticker on top and the paper liner on the back that prevents it from accidentally sticking to things.
How To Cut A Vinyl With A Cricut Machine?
Curious about how to cut Vinyl? Let's talk about how to cut Vinyl on Cricut. To cut vinyl using a Cricut, you'll need a few different supplies.
Required Supplies:
Cricut Machine, no doubt. I use my Cricut Explorer air 2 for all of my vinyl projects.
Green Standard Grip Mat ( it works best with Vinyl).
A weeding tool (used to remove the negative piece of Vinyl from the cut image). A sewing needle or paper cutter may work too.
Transfer Tape. The type of transfer tape depends on the Vinyl. For majority of Vinyl, people prefer using regular transfer tape. But if it's glittery or shimmer vinyl, a strong grip transfer tape is recommended.
Instructions to Follow to Cut Vinyl With Cricut Machine:
Once the initial step, aka designing your project through Design Space, is done, place the Green Standard Grip Mat on a flat surface. Remember to remove the clear linen and put it aside.
Unroll the Vinyl. Make sure that the paper liner is facing downwards. Align the corners of the Vinyl with the corners of the grid. Smooth the Vinyl and make sure that it's securely adhered to the mat.
Select the specific type of Vinyl from Design Space. Insert your grip mat into your Cricut machine. The Vinyl should be cut with a fine-point blade. Once the machine is finished cutting the Vinyl, unload the mat.
Don't separate the Vinyl from the mat just yet. While the Vinyl is still attached to the mat, start the weeding process. Take out a piece of transfer tape(should be around the same size as your image). Remove the liner paper on the back of the tape and stick the tape on top of your image. Remember to use the grid lines for lining everything up.
Flip the mat upside down. Pull the mat away from the Vinyl. This protects the Vinyl from getting damaged or forming bubbles.
Use a scraper tool to burnish your image onto your transfer tape. At approximately 45 degrees angle, gently peel off the transfer tape from the Vinyl.
What Cricut Blade Do I Use To Cut Through Vinyl?
I use Cricut for almost all of my projects, especially ones related to Vinyl. I've been using it for a couple of years. I recommend you try Premium Fine point blade for Vinyl and paper, cardstock, poster board, iron-on, and other thin to medium weight materials.
How Long Does A Cricut Blade Can Cut Through Vinyl?
The Premium Fine Tip Blade is supposed to last longer but, I've noticed a difference between them other than the price. I used different blades for each material, and the ones I use the more lasts for 6+ months at a minimum.
Why My Cricut Machine Is Not Cutting Through Vinyl?
Firstly, ensure that you're using a Cricut brand blade. Now inspect the blade and the blade housing. Remove any debris that may be stuck onto the blade or lodged in the housing of the blade.
Clean and perform a test cut.  Try to attempt cutting a thin fabric or a printer paper. Remember to use the appropriate settings for that material.
What's The Best Cricut Machine For Vinyl Projects?
I personally have been using the Cricut Explore Air 2 for the past 2 years, and It exceptionally works well on vinyl as well as other materials.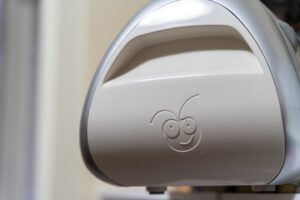 It has the ability to cut many different materials (e.g., vellum, leather, card stock, fabric, balsa wood, etc.), thus opening endless possibilities for projects.
| | |
| --- | --- |
| Pros | Cons |
| Versatility | Needs to be connected to the internet for downloadable content. |
| Precision cutting | |
| Bluetooth connectivity | |
FINAL VERDICT
To sum up the whole discussion, all three Cricut machines can cut Vinyl using a premium fine point blade. Vinyl cutter lasts up to six months at a minimum. Use Cricut Explore Air 2 to cut through Vinyl with more delicacy and accuracy.
Beatrix Ainsley (Bea to her friends) is an abstract artist who was heavily inspired in her twenties by the abstract expressionist movement of the 1940s. Since then Bea has acquired three degrees in Science, Education and most importantly Fine Art. Her art works showcase exploring emotion and introspection of self. To achieve this – the use of bold, sweeping, intricate layers of color, and spontaneity of form is enhanced by reflecting on decades of life experiences. Bea has amassed a vast knowledge of art in all its forms, and hopes to pass it on with her contributions here.