Confused about whether you should buy the Cricut Access standard or premium? What's the difference between the two? Which will be more profitable? Read ahead to find out which subscription will satisfy your crafty needs.
Cricut Access; Standard Vs. Premium
What exactly is Cricut Access? Cricut Access is a monthly or annual membership to the Cricut Image Library, which includes over 100,000 non-licensed images, thousands of ready-to-make projects, and 500+ fonts. It also gives you discounts on items, designs, and shipping!
You may now receive around 370 fonts and 30,000 pictures, depending on the membership level you choose. This can greatly speed up your search for fonts and pictures. No more squandering TIME.
| | | |
| --- | --- | --- |
| FEATURES | CRICUT ACCESS STANDARD | CRICUT ACCESS PREMIUM |
| 370+ fonts including exclusives |             ✓ |             ✓ |
| 30,000+ images including exclusives |         ✓ |          ✓ |
| Save on digital purchases |         10% off |          50% off |
| Save on physical purchases |        10% off |          10% off |
| Monthly cost |         $9.99 |             n/a |
| Yearly cost |        $95.88 20% saving |        $119.88 The best value |
The only difference between Cricut Access Standard and Premium membership levels, according to the table, is that you get a higher percentage of digital image purchases and physical purchases.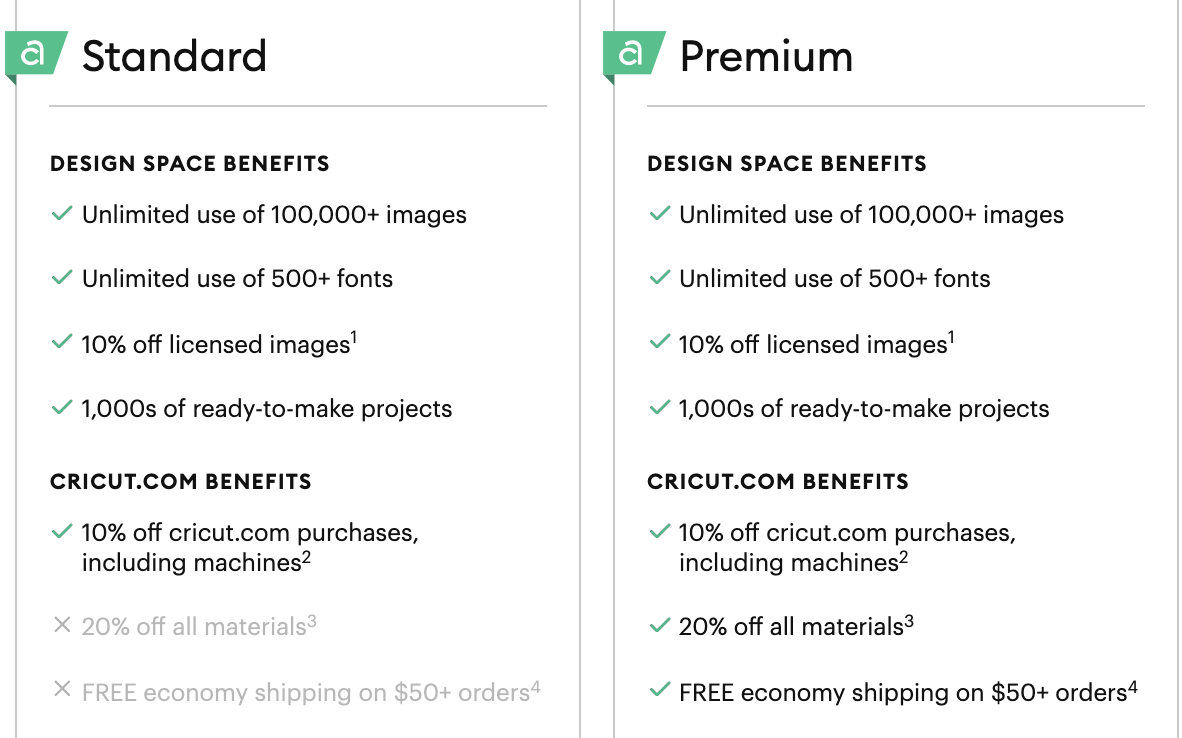 Digital Pictures
Digital pictures are the ones that you still need to buy for a project. Images that would be transmitted digitally via your computer. Hopefully, now that you have a Cricut Access subscription, there will be relatively few purchases.
Digital pictures are 10% off with the basic membership and 50% off with the premium membership. That's a sizable portion.
Physical Purchases
Physical purchases, on the other hand, would be everything you need to help you develop projects. Tools, machinery, and goods. Physical purchases will be sent to you by normal mail or other delivery methods such as UPS.
For either the standard or premium membership, the discount on physical items is only 10%.
The Drawback Of Cricut Access Premium
There is one drawback to Cricut Access Premium. It cannot be paid weekly; it must be paid yearly. When the statistics are crunched, it is the best value, but some of us can't afford to pay the $119.88 all at once.
Do You Have To Pay To Use Cricut Design Space?
You do not. The Cricut design space is free to use for all users. Once downloaded, Cricut Design Space is free and ready to use. Cricut Design Space and Cricut Access are two distinct products.
Cricut Access is a service provided by Cricut that gathers fonts and pictures for us to utilize without having to spend extra time and money searching for them elsewhere.
If you have the time, you may search for your pictures and typefaces. But, in my experience, that becomes old fast.
How To Find Cricut Access Fonts?
Follow the steps to find Cricut Access fonts,
Go to Design Space and type some content in there.
Make a box around the text and a red arrow at the top of the box, or highlight the text.
Look for the term Font in the upper left corner of Design Space. Clicking the down arrow in the box below reveals all of the text you have available to use.
Look for the fonts with the Cricut green A logo next to them when browsing the fonts. This is how you'll know if you're working with Cricut Access fonts.
How To Find Cricut Access Images?
Here's how you can find,
Create a Design Space.
Look for the word Images on the left side. Click on it. That's all!
There's a lot to select from here. It's a good thing that you can search for exactly what you're looking for.
You may explore what's new or popular, or you can search for exactly what you're looking for without being sidetracked by all the lovely stuff.
Some pictures are available to everyone, while others are only available to Cricut Access subscribers (look for the Cricut green A logo), and some are still purchased designs.
Cricut has a few creators that make wonderful designs that they simply cannot give away. Sorry.
Additional Perks of Cricut Access
Current Cricut Access users who upgrade to Access Premium will have the balance of their current membership immediately transferred to the new membership.
For example, if a yearly Cricut Access member has been a member for 6 months, half of their $95.88 membership fee will be removed from the price of Access Premium at checkout.
Similarly, if an Access Standard member wants to downgrade to Fonts, any leftover value in their existing membership will be transferred to the Fonts membership.
This standard membership gives you access to over 500 typefaces as well as over 100,000 pictures and cuts files. With rare exceptions, this membership also includes a 10% discount on pictures and typefaces not included in the subscription, as well as product purchases.
Cricut Access Standard subscriptions are available on a monthly or annual basis. Standard subscriptions start at $7.99 per month for yearly billing and $9.99 per month for monthly billing. This package saves $24 for annual members!
The Premium membership is exactly what it says it is: premium! It contains everything listed above as well as Cricut Access, which grants Premium users free Economy shipping on orders over $50 on cricut.com as well as 20% off materials! This is a one-time payment of slightly under $120.
Conclusion
You may pick a plan according to your crafting needs, but Cricut Access Premium includes a 20% discount on all material purchases on cricut.com as well as free delivery on orders of $50 or more.
Plus, each package includes a Priority Member Care phone line, which pushes you to the front of the line and gets your Cricut questions answered right away!
You don't need a Cricut Access membership to utilize Cricut Design Space, but we enjoy the extra features that these subscriptions provide. We're confident that once you start making, you won't be able to stop!
You may sign up for Cricut Access here with your Cricut ID if you're ready to delve into an unlimited quantity of great designs and projects.
Beatrix Ainsley (Bea to her friends) is an abstract artist who was heavily inspired in her twenties by the abstract expressionist movement of the 1940s. Since then Bea has acquired three degrees in Science, Education and most importantly Fine Art. Her art works showcase exploring emotion and introspection of self. To achieve this – the use of bold, sweeping, intricate layers of color, and spontaneity of form is enhanced by reflecting on decades of life experiences. Bea has amassed a vast knowledge of art in all its forms, and hopes to pass it on with her contributions here.