Hey! Are you feeling low because your acrylic paints or canvas isn't cooperating with you? In that case, if your answer is 'yes', then don't worry as we got your back.
As a beginner, it is really common to face issues such as runny acrylic paint or your acrylic paint not sticking to canvas. But again, you need not to panic, as today we'll be discussing the most major problem related to acrylic paints and canvas along with the easiest of the solutions.
So, let's not make you wait any longer and start with today's blog!
Acrylic Paint Not Sticking To Canvas?
Well! There are many reasons as to why acrylic paint is not sticking to your canvas, but the major reasons are; your canvas can be faulty, or the quality of your paint is not good enough.
The first reason is most people are mistaken in it; that their paints (acrylic paint) that they purchased are faulty, but it is wrong, mostly the canvas they purchased is Canvas, as I explained before are of different qualities, cotton duck, linen duck type, or twill type. Canvas can be of cheap quality and can be of good quality too.
For acrylic painting, mostly stretched canvases (wrapped around the wooden frames) are used and are called as stretched bars. And there is also a factor of primed or unprimed canvases. Some cheap quality readymade canvases fail to absorb acrylic paint because they are not properly prepared with acrylic gesso prime. Gesso is used to serve the purpose of glue.
The second reason that I noticed for acrylic paint not sticking to canvas is the quality of your paint. Are you sure that the acrylic paint that you have purchased is good? If it is of good quality, then why is it not sticking to canvas?
No, maybe your paint is of cheap quality if you are sure that your canvas is perfect for painting.
The main issue is that some low-priced acrylic paints mostly have poor adhering capacity. On canvas, it may not adhere properly and looks like shattered drops.
Some acrylic paints get dried fast before using on the canvas, or they may have not much fast-drying ability. These kinds of acrylic paints don't have gloss; they produce a rough look when painted on canvas if in case they stick to the canvas.
Are You Anxious To Know How To Get Rid Of It?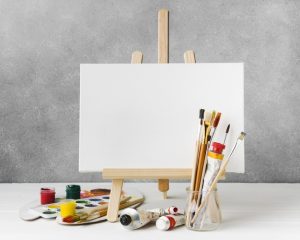 Well! The hacks I am going to tell you when I used them first, I was surprised, and I am surely saying that your reaction more or less would be the same as mine.
Firstly, always use the canvas of good quality, like the cotton canvas is best for permanent painting and linen canvas can also be used. If you are used to buying a readymade primed canvas, then try to prime your canvas with gesso yourself and coat double or triple layers, so that your paint will properly stick to your canvas. Before purchasing canvas, you must check its capacity of absorbance, either it is good for oil painting or acrylic (water-based) painting.
Another tip is when you are priming your canvas with gesso, let every coat properly dry. Many people, for example, directly after gesso, apply the red paint on canvas; red paint has not much adhering capacity so it will result in droplets. The best way to paint it is first to use white paint gesso and then paint with red or pink shade to get excellent results.
Then there comes another issue; as you know, acrylic paint consists of pigments that are suspended in a binder. If you very much dilute the acrylic paint with water, then it weakens the binder, and paint does not stick to the canvas properly and can be lift off from the surface any time.
So according to some research, it is recommended that use the acrylic glazing liquid so that the binder will not weaken and there is no chance of lifting off acrylic paint.
What Acrylic paints are? And What You Should Know
Acrylic paint is made up of the polymers that are suspended in acrylic polymer emulsion and plasticizer, metal soaps, silicon oils, and stabilizers.
Acrylic paint has fast drying ability and it becomes water resistant when it gets dry, otherwise it is water-soluble but its property changes with its dryness.
Acrylic painting depends upon the factor of diluteness (ratio of water and acrylic paint) or its modifications with the acrylic gels, pastes, and other mediums. In the end when acrylic painting finishes, it may have a resemblance with watercolor, oil painting, or a gouache. These are specific kinds of pattern results after the acrylic paint dry.
In our artistic world, acrylic painting is very much popular; mostly artists used this paint to turn an image of something into the fascinating world of colors.
After experimenting with a lot of color paints, especially acrylic, I can recommend you this one that I found on Amazon. It's good and will be easy to work with on canvas:
Arteza Acrylic Paint, Set of 24 Colors/Tubes (22 ml/0.74 oz.) with Storage Box, Rich Pigments, Non-Fading, Non-Toxic Paints
(Ideal for canvas painting)
Do You Know What Canvas Is And How It Is Composed?
Canvas was, in old days prepared by the hemp. [Popular for its industrial used (best fiber)] But nowadays it is made up of cotton or linen; with PVC (Polyvinyl chloride) which is the world's third most-produced synthetic plastic polymer. Canvas is extremely durable plain-woven fabric; mostly used for making marquees, tents, shelters, and sails; in fashion, for making handbags and shoes. The most famous use of it, (when the canvas is stretched across a wooden frame), is its use as a painting surface by artists. Canvas is classified into plain and duck types and the duck type is the most tightly woven.
A linen canvas, as per my recommendation would be this one.
Masterpiece Monet Pro Airfix Acrylic Primed 1-1/2″ Profile Linen Canvas
                (Great for acrylic paints, primed by hand with two coats of size and two coats of acrylic-based primer)
Also, if you're a beginner, a really nice cotton canvas to get your hands on would be this one.
Masterpiece Monet Pro Sausalito 1-1/2″ Profile Cotton Canvas
                (Double-primed with acrylic gesso, tiff surface texture designed to stand up to aggressive painting techniques)
FINAL VERDICT
To sum up the whole discussion, it is a must to use the acrylic paint and canvas of good quality. Always prime up your canvas whether it is already primed or not. Also, don't dilute the acrylic paint by using more water than paint. Use glazing liquid to avoid lifting of acrylic paint from the canvas. Use cotton canvas for better acrylic painting.
All the above points will lower the chances of acrylic paint not sticking to canvas. And you will have a great experience painting.
Beatrix Ainsley (Bea to her friends) is an abstract artist who was heavily inspired in her twenties by the abstract expressionist movement of the 1940s. Since then Bea has acquired three degrees in Science, Education and most importantly Fine Art. Her art works showcase exploring emotion and introspection of self. To achieve this – the use of bold, sweeping, intricate layers of color, and spontaneity of form is enhanced by reflecting on decades of life experiences. Bea has amassed a vast knowledge of art in all its forms, and hopes to pass it on with her contributions here.